Proshares is the master of creating exotic ETFs and was the first one to come out with a leveraged, and an inverse ETF. This time it has come out with another interesting ETF – the Proshares 130 30 ETF (CSM).
The Proshares 130 30 Credit Suisse ETF (CSM) takes the 500 largest US stocks by market capitalization, ranks them in the order of best to worst, takes long positions in the top ranking ones, short sells the lower ranking ones, and then uses the money from the shorts to take further long positions in the better ranking stocks.
The net effect of this will be that the Proshares 130/30 ETF is long 130% and short 30% of the index. So, if the assets of the ETF are worth 100 dollars, they should normally be long 130 dollars worth of stock and short 30 dollars worth of stock.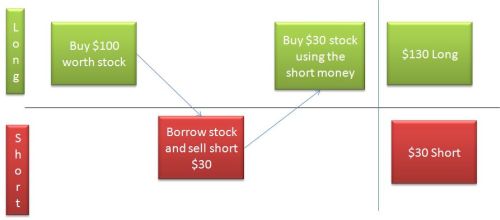 This is a simplified example to illustrate the basic principle of the 130/30 mechanism. The Proshares 130/30 ETF itself will invest in Equity Securities, short Securities, Futures and Options, Swaps and Forward Agreements to achieve its strategy.