Proshares is the master of creating exotic ETFs and was the first one to come out with a leveraged, and an inverse ETF. This time it has come out with another interesting ETF – the Proshares 130 30 ETF (CSM).
The Proshares 130 30 Credit Suisse ETF (CSM) takes the 500 largest US stocks by market capitalization, ranks them in the order of best to worst, takes long positions in the top ranking ones, short sells the lower ranking ones, and then uses the money from the shorts to take further long positions in the better ranking stocks.
The net effect of this will be that the Proshares 130/30 ETF is long 130% and short 30% of the index. So, if the assets of the ETF are worth 100 dollars, they should normally be long 130 dollars worth of stock and short 30 dollars worth of stock.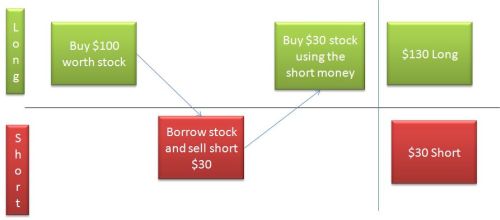 This is a simplified example to illustrate the basic principle of the 130/30 mechanism. The Proshares 130/30 ETF itself will invest in Equity Securities, short Securities, Futures and Options, Swaps and Forward Agreements to achieve its strategy.
The stocks that are chosen for being long and short are based on a quantitative methodology which uses 50 factors to determine how a stock will rank. The rankings are recalculated every month and there is a portfolio reallocation based on the new ranks.
Underlying Index for Proshares 130 30 ETF
ProShares Credit Suisse 130/30 (CSM) seeks to track the Credit Suisse 130/30 Large-Cap Index (before fees and expenses). The index was introduced in 2007 by Credit Suisse in collaboration with AlphaSimplex Group.
Fees and Expenses of Proshares 130 30 ETF
The Proshares 130 30 ETF (CSM) will have a total net annual fund operating expense of 0.95% of average daily assets.
Conclusion
The fund is designed to provide advanced investment strategies and is a bit too advanced for me. I'd personally never invest in such a fund because to me; investing in this fund means that I trust that they will be able to pick the right stocks to go long and short, and beat other passive funds.
I don't even know what methodology they are using to select what to go long or short on, and even if I did, it is highly unlikely I place my trust in the hands of a formula.
Useful Links:
Prospectus
Disclaimer: I don't own this ETF and this is just my personal opinion and should not be treated as a buy or sell recommendation on the ETF.