The latest company to come out with a NCD is Religare Finvest, and this is the fully owned subsidiary of Religare.
The NCD opens for subscription on the 9th September 2011, and closes on the September 26th 2011. The Religare NCD is going to give 12.5% for 5 years which is the maximum that any NCD has offered yet. They plan to raise Rs. 8 billion from this issue. The issue has been raised ICRA AA- (stable) by ICRA and Care AA- by CARE. These ratings indicate a high degree of safety regarding timely servicing of financial obligations and carrying low credit risk meaning they are very likely to pay interest on time, and unlikely to default on their debt.
The company has a gross loan portfolio of Rs. 79,346.21 million and 91% of that is backed by collateral. The company has grown at a very high rate in the past few years growing from a loan book of Rs 5.66 billion in 2007 to a loan book for Rs. 89.6 billion last year.
The total income grew from Rs. 973.25 million to Rs. 11,631.50 million in the same period. So the loan book grew at a CAGR of 73.75% and income by 64.24%.
The one thing that has lowered during this time is the Capital Adequacy Ratio which was 64.27% in 2009, 21.67% in 2010, and is down to 16.16% in 2011. I think this is one of the lower ones seen when compared with the other NCDs that have been recently issued.
Religare Finvest caters to the Small and Medium Enterprises as well as the retail segment for its business, but the biggest segment of its loan book is the loan against properties it gives out to the small and medium enterprises.
Here is the breakup in its loan book as on June 30 2011.
SME Financing: Loan Against Property 36
SME Financing: Commercial Assets 17
SME Financing: Working Capital Loans 8
SME Financing: Loans against marketable securities 8
Corporate Auto Lease 2
Retail Capital Market Finance: Loan against securities 16
Corporate Lending 13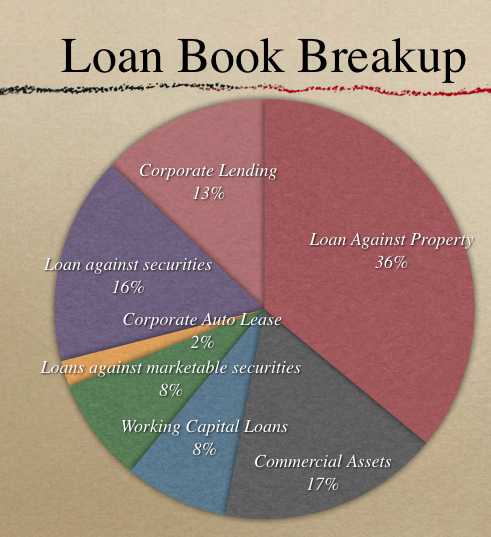 If you look at this mix then this seems to be a lot better than the other NCDs we've seen before. Mannapuram was of course all gold, India Infoline had a lot of real estate and stocks, and Shriram City Union had more than a quarter in gold, and 9% in personal loans as well. Â On the other hand, Religare Finvest's Capital Adequacy Ratio at 16.16% is lower than the other companies we have seen come out with NCDs.
Now let's take a look at the terms of the issue itself.
Terms of the Religare Finvest NCD
The minimum investment required is Rs. 10,000 and the issue opens from September 9th 2011 and closes on September 26th 2011.
There are two series – one for 3 years, and the other one for 5 years, and both of them pay interest annually. The interest rate for retail investors is 12.50% for the 5 year series which is the highest coupon rate any NCD has offered yet. Here are the other details.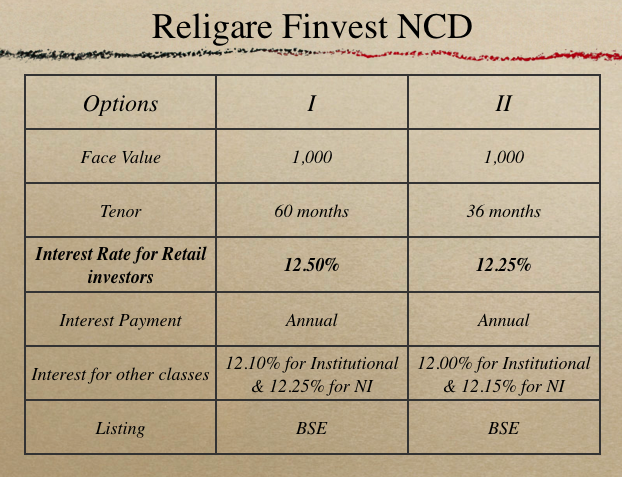 There are bound to be questions on whether there will be listing gains or not, and I'm 100% confident that I have absolutely no clue about it. But I do have a feeling that the retail part will be over subscribed so if you do decide to invest in them it will be a good idea to apply quickly, as the NCDs will be offered first come first serve basis.
When they do list, there will be six NCDs listing on the exchange, one for each maturity and coupon rate, and you can decide which one you want to buy at that time as well.
Those are some key things that caught my eye while going through the prospectus of this issue, and as always, Â questions and comments are welcome!
If you are a new reader and have some basic questions about NCDs then you will find these two posts about NCDs useful:Â