Power Finance Corporation (PFC) is the second company after IFCI to come out with their 80CCF infrastructure bonds.
These bonds help you get tax benefit over and above the Rs. 1,00,000 that you get by investing in Section 80C tax instruments.
The face value of each bond is Rs. 5,000 and PFC will come out with an issue size of Rs. 200 crores or Rs. 2 billion.
These bonds are secured, and rated AAA/Stable from CRISIL and AAA with stable outlook by ICRA.
The bonds will be available in both Demat and physical form, and these are the other terms of the PFC infrastructure bonds.
Terms of the PFC 80CCF Infrastructure Bonds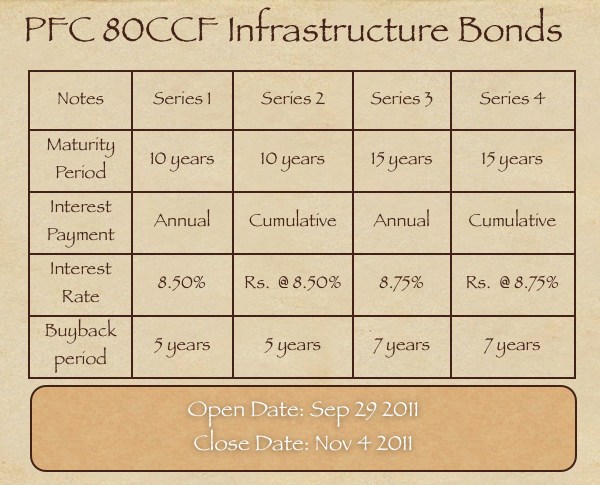 It's a good thing that PFC infrastructure bonds have opened up so much ahead of time because it gives people enough time to subscribe to them and get the tax proofs well ahead of March 31st.
PFC is a good company, and the interest rates among these 80CCF bonds aren't going to vary much as they are capped at the 10 year government bond yields, so I think people who are looking to invest in these bonds can give PFC a serious thought.
Last year, there were some news reports that LIC was going to offer these bonds with along with free life insurance and circumvent the cap on yields, but that never materialized.
I don't know if any other company will try to pull something similar this year or not, but with just an investment of Rs. 20,000 in these – it will not make a lot of difference in absolute terms.