Muthoot Finance, which is the largest gold loan financing company in India, and has come up with two debt issues this fiscal has come up with another NCD issue which opened on March 02 2012 and will close on March 17th 2012.
In their last NCD issue, Muthoot offered an interest rate of upwards of 13% and created a lot of excitement in the market, and the terms of this issue are exactly the same as the terms of the last issue.
This issue is for a total size of Rs. 500 crores and the bonds will be issued in dematerialized form only. The issue has been rated ICRA AA-/Stable by ICRA and CRISIL AA-/Stable by CRISIL.
Here are the other details of this issue.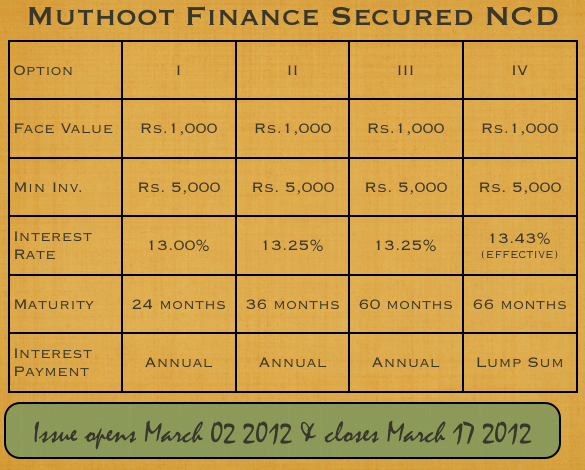 Muthoot has been classified as a systematically important NBFC by RBI, is a huge company with gold loans under management worth Rs. 207 billion and has a capital adequacy ratio of 18%. The promoters hold a little more than 80% of its shares and all these are positive factors that go in favor of the company.
In my post about the last Muthoot NCD issue I had written that that you shouldn't have a lot of your portfolio exposed to either this issue or any other like this. The company is doing well currently but that doesn't mean it will always do well and you don't want to end up in a situation where you find that you lost a lot of money for a few extra percentage points in a debt issue.
I would say the same thing here, and if anything, I've become more wary of investing money here because of the frequency and timing of the issue. When everyone expects interest rates to come down in a few months, why not wait to come out with a debt issue then?
Gold prices have also ended their one way march up and haven't moved anywhere in the past 6 months and that doesn't bode too well for a gold loan company either.
If you want to benefit from the high interest rates currently prevailing then you could take a small exposure in this issue but if you already own these bonds then it's best to avoid them and look at other things that offer more safety albeit at a lower rate.