Gold Mining in India
Gold mining in India is really quite small and hardly ever gets talked about. For a country that consumes so much gold, it is a pity that there aren't more gold mines in India.
During 2008-09, the value of gold mining production in India stood at Rs. 312 crores which is 0.99% of the total metallic mineral production in the country at Rs. 31,533.97 crores.
The gold production stood at 2,464 kgs, and decreased by 17% compared to the previous year with Karnataka accounting for 99% of the total production.
I always assumed that the low gold production is due to the fact that we don't have much gold reserves, so I was a little surprised to read that the Ministry of Mines estimates the total gold ore resources at 390,289,237 tonnes (pdf). However, this number is so high because the actual gold which can be extracted from the ore is very low. It can be as low as 2.5 grams of gold per tonne of gold ore, but I couldn't find what the estimated number for India's gold ore deposits is likely to be.
For reference, India holds 557.7 tonnes of gold as reserves.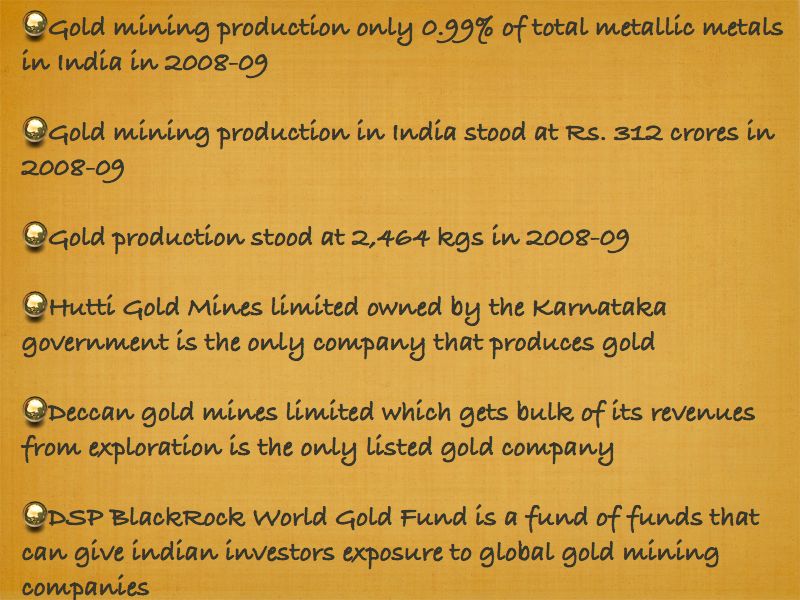 Gold Mining Companies in India
Deccan Gold Mines Limited: There is only one gold mining company that is listed in the stock exchange in India. This is Deccan Gold Mines Limited, which is listed in the BSE. The company made a loss last year, and since it was established in 2003 that is probably not a surprise as the gestation period in these type of industries is usually long. The company has revenues based on gold exploration, and other income.
In their annual report I found an interesting piece of data where they write that India is estimated to have about 9% of the global gold reserves, and about a century ago there were more than 100 big and small gold mines in the country.  (Source: Annual Report of Deccan Gold Mines (pdf)
Hutti Gold Mines Company Ltd: It is the only company in India that mines gold. It is owned by the Karnataka government and mined about 2.5 tonnes of gold last year, and generated a profit of Rs. 95 crores in 2009-10.
Fund of funds that can give you exposure to global gold mining companies
The original idea for this post came from a comment asking about gold mining companies in India to invest in, but as you can see there aren't many options for those.
If you're really interested in getting exposure to gold mining companies then there is a fund of fund called the DSP BlackRock World Gold Fund which can get you exposure in global mining companies. 78.30% of its net assets are exposed to gold, and 10.3% to silver among other asset classes.
Conclusion
There's hardly any gold mining activity in the country, and consequently there aren't many companies that are engaged in it that investors can get exposure to. This might change in the future because of the untapped potential and scorching gold prices but until then your options are fairly limited.