NCDs are getting increasingly popular in the Indian market these days, and soon after I wrote about the India Infoline NCD – I came across the NCD of another NBFCÂ  (Non Banking Finance Company) – Shriram City Union.
Shriram City Union is part of the Shriram group of companies, and its primary business is lending in the small loan segment of Rs. 1 – 10 lakhs. This is the second NCD from this group as you will probably remember the NCD from Shriram Transport Finance in June this year.
The company had revenues of Rs. 1320.91 crores and a net profit of Rs. 240.58 crores in the last fiscal, a decent profit margin of 18.2%, and in the last 5 years the net income has grown at a CAGR of 40%, and profits have grown at a CAGR of 47%. They have a NPA (Non Performing Loans) to Net Asset Ratio of 0.43%. Their CAR (Capital Adequacy Ratio) was 20.53% against a RBI mandated 12.00%, and just for reference, the IIFL NCD that I recently reviewed showed that their CAR was 29.95%.
Like the IIFL NBFC, the Shriram City Union NBFC also draws on the brand and the ecosystem of their parent to grow their customer base. The promoters hold 53% of their stock.
The company lends to various segments, and it's portfolio mix from the various segments is as follows.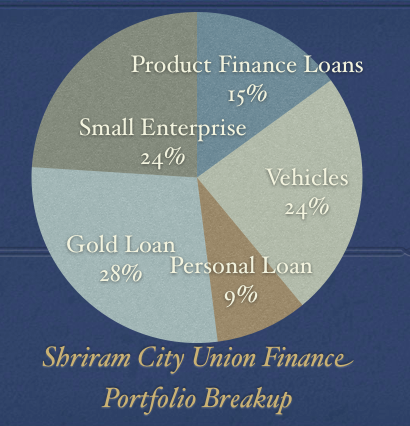 As you can see, the company's income streams are pretty well diversified. Shiriram City Union Finance has a business model of serving the under – banked community. They use the outlets and know – how of their group companies to get a target customer base, and then lend to them. One example is lending to the customers of Shriram Chits, who then keep the chit money as collateral. Looking at the large number percentage of vehicle finance – I think there should be a similar setup with Shriram Transport Finance as well.
Most of the categories are pretty self explanatory, but I wasn't so sure what product finance meant. I looked it up and was surprised to see that product finance comprised of two – wheelers, electrical appliances, and other white and brown goods. The average yield for this category is a pretty good 24%, and that is true for other categories as well with yields over 20% in them.
Having looked at the business of Shriram City Union, let's take a look at this NCD in particular now.
Shriram City Union Finance NCD Terms
Shriram City Union is going to open for subscription on August 11th 2011, and will close on August 27th 2011. CARE has rated this issue CARE AA, which according to them indicates a high degree of safety. CRISIL has also rated it AA – or stable, which indicates the same thing as CARE's rating.
This is a secured debt issue which means that the debt that the company issues, which can be up to Rs. 750 crores, will be backed by some collateral. It doesn't mean that your money is guaranteed. It simply means that if the company were to go bankrupt, they will sell off the assets that were earmarked to pay this debt, and pay you with them. The same assets will be earmarked for other debt, or they may not recover as much as they expect to and in that case you will not get all of your money back. Bankruptcy for this company will be an exception rather than the norm, but it is a possibility and one that you should keep in mind while investing in Shriram City Union NCD, or in fact any NCD at all.
Here are the important terms and conditions for this NCD. The interest rate is shown for the reserved portion of retail individual investors, and those will be the ones who apply for less than Rs. 5 lakhs.
The call and put option for the 60 month series means that at the end of 48 months, either you or the company can decide that you no longer want to continue the NCD and then redeem it at that time, instead of waiting 12 more months.
Here are the other conditions.
Given, that the other NCDs have over – subscribed in the recent past, I won't be surprised if this one oversubscribes too, so if you do want to invest in them, then you should subscribe to them as quickly as possible.
I have covered the topic of what a NCD is in quite a bit of detail in this post, so I won't get into that here, and my post about how to buy a NCD describes that process so I won't get into that as well. If you have any other questions, then please leave a comment, and I will try to answer them.