This is a very common question here, and I feel rather exasperated when I encounter this question but I've never actually written a detailed post on why that is.
Since, the new year will come soon, and a common variation of this question: Which is the best place to invest in 2012 will be asked a lot – I thought this is a good time to do a post on this subject.
First, you need to define what you mean by the best place to invest. Obviously, you're not thinking of the safest place to invest because almost all of us treat our bank deposits as ultra safe and backed by the government implicitly so I assume that you wouldn't bother to ask this question if safety of money was your primary concern.
Returns are what most people have in mind when they ask about the best place to invest, and the real question is what will give me the highest return without any risk of losing money?
Let's take a look at the returns of gold (GoldBeeS ETF), equities (Nifty) and fixed deposit for the last 5 calendar years. I've taken year to date returns for 2011, and I've taken data from April onwards for 2007 since that's when GoldBeeS listed.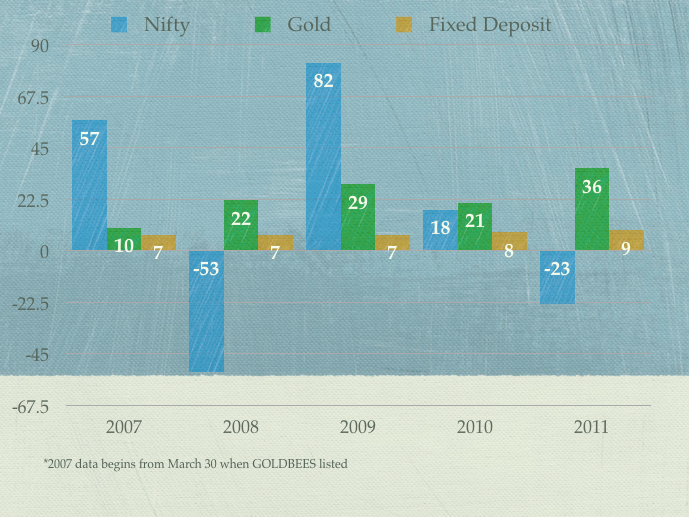 Now, one look at the above chart tells you what the best investment for 2011 would have been – gold of course.
And 2010 – that's gold too. But look at 2009 – whoa! Look at the Nifty skyscraper shoot through to the sky – if you missed being in equities in 2009 – you missed that skyscraper and certainly a lot of people missed that because of what happened in 2008.
And 2008? Well, your first instinct is to say that gold did the best in 2008, but I would say someone who sold Nifty Futures did far better than people who held gold in 2008.
So, the best investment in 2008 was short Nifty.
And look at 2007 – there you go – Nifty makes massive gains again and outperforms everyone.
Now, these are just three investment classes, but there are plenty more options like real estate and silver, and then within equities you have sectoral mutual funds, and the way you slice and dice the investment options are just endless.
In my mind, the big idea that emerges from this chart is that every year something else is the best, and that's also true for a slightly longer periods of 3 – 5 years as well.
There is simply no way to tell what's the best investment for the next year or the next 3 – 5 years.
If you keep getting in and out from one asset class to another in the hopes of chasing the best returns – you will easily miss out rallies and burn your fingers because the time you enter a new asset is usually the time when a lot of euphoria surrounds that asset and it actually falls in value. That hasn't happened to gold yet, but I won't be surprised if that happens in the near future, as near as next year.
I would never put all my eggs in one basket, and risk the chance of seeing a 50% crash in the value of my money or get out of the market completely and see it rocket its way to the top.
There is no such thing as "best investment" just like there is no such thing as return without risk.