One of the more interesting things I learned while writing about India's major trade partners was that Switzerland (not China) was the country that India ran it's largest trade deficit with.
While you'd expect India to import a lot more than it exports to oil producing countries – I was a bit surprised to see that even Switzerland fell into that category.
I looked up further data on what India specifically imported from Switzerland and here are the numbers. The headings of the commodity name are rather long and I've retained the same thing that I found on official Department of Commerce website.
| | |
| --- | --- |
| Commodity | In Millions USD |
| NATURAL OR CULTURED PEARLS,PRECIOUS OR SEMIPRECIOUS STONES,PRE.METALS,CLAD WITH PRE.METAL AND ARTCLS THEREOF;IMIT.JEWLRY;COIN. | $22,815.23 |
| NUCLEAR REACTORS, BOILERS, MACHINERY AND MECHANICAL APPLIANCES; PARTS THEREOF. | $565.12 |
| PHARMACEUTICAL PRODUCTS | $410.48 |
| ELECTRICAL MACHINERY AND EQUIPMENT AND PARTS THEREOF; SOUND RECORDERS AND REPRODUCERS, TELEVISION IMAGE AND SOUND RECORDERS AND REPRODUCERS,AND PARTS. | $172.46 |
| OPTICAL, PHOTOGRAPHIC CINEMATOGRAPHIC MEASURING, CHECKING PRECISION, MEDICAL OR SURGICAL INST. AND APPARATUS PARTS AND ACCESSORIES THEREOF; | $170.91 |
| Others | $667.64 |
| Total | $24,802.00 |
I think the first category consists mainly of gold and here's a pie chart that I think really drives home the point.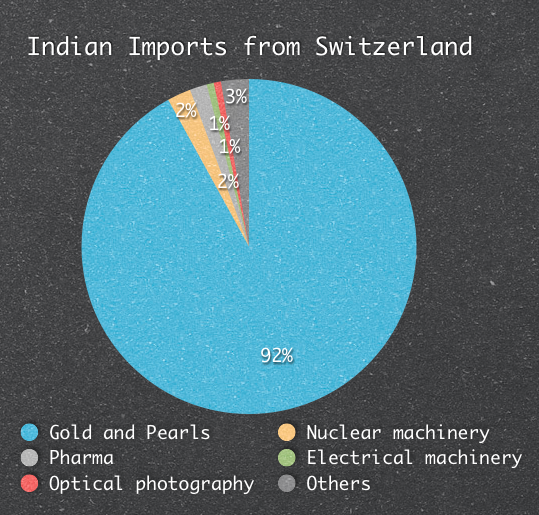 As  you can see the bulk of the imports are gold and pearls and I think gold must be the primary constituent in this category. Further, I think that the gold people buy for investment like gold ETFs and gold bars and coins sold by banks constitute a large part of these imports.
I say that because this category grew by 75% the last year and people suddenly didn't start buying that much extra jewelery. This category also happens to be the main reason for growth in imports from Switzerland which grew by 68% overall in the last year. This will probably not grow as much this year so the deficit situation may change, but it's really amazing how one commodity can drive so much growth in just one year.
It will be interesting to see where else does India import its gold from but that needs to be the topic of another post.