Reliance Industries Limited (RIL) announced a share buyback plan along with their quarterly results on Friday, and the main thing to remember about that buyback plan is that Reliance Industries is going to execute it through an open offer and buy the shares from the open market.
This means that the company will go and buy the shares from the stock exchange, and there is no way for a shareholder to offer their shares to Reliance Industries and ask them to buy it for a certain price.
The price of Rs. 870 that's being discussed is the upper limit at which the company will buy shares, and that in no way indicates that the stock price will reach Rs. 870 in the near future or that you can get Rs. 870 for a share any other way.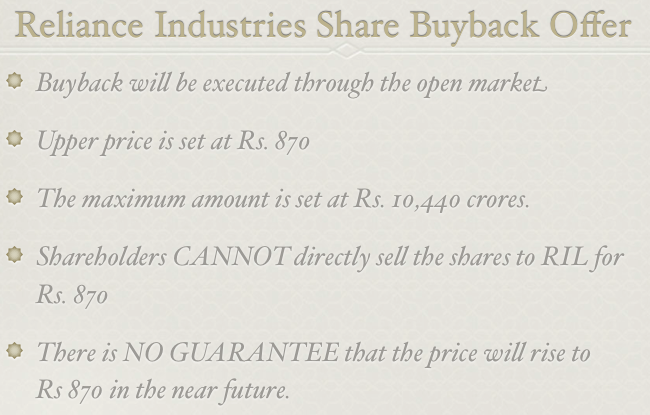 Over a period of time Reliance will buy its own shares from the market as long as the price is below Rs. 870. If the price rises beyond 870 then they won't buy any more shares. They are not going to keep buying as long as the price reaches 870 – that's not their intention at all.
The third aspect of this buyback announcement is the Rs. 10,440 crore upper limit, and this is the maximum the company will spend on the buyback. They are not obligated to spend all of Rs. 10,440 crores, and they will probably not use all of that either. That's just my guess based on what they did last time and the fact that they have debt worth Rs. 74,503 crores and cash worth Rs. 74,539 crores and they did spend Rs. 1,899 crores on interest payments in the first 9 months of this fiscal so the cash can be used to reduce this debt as well.
I can't think of anything that's been announced in this buyback that makes such a material difference so as to start an investment position in Reliance. If you want to speculate for some short term gains then I don't have any input on that but Business Line has a great article on the currently open buyback offers and they found that out of the 15 offers that are currently open, 14 are much below the maximum price offered by the company, so that gives you an indication of how other offers have recently fared.