This post is written by Shiv Kukreja, who is a Certified Financial Planner and runs a financial planning firm, Ojas Capital in Delhi/NCR. He can be reached at skukreja@investitude.co.in
It has been a very long time since Deepak suggested Manshu and me to cover a post having post-listing details of tax free bonds issued during last three financial years. Like a large number of investors, he too has been struggling to keep himself updated with different interest payment dates, scrip codes, scrip ids, ISIN numbers of these bonds, which of these bonds carry step-down feature and many such things.
This is what Deepak had to say:
Deepak October 28, 2013 at 4:28 pm
Hi Shiv, (I have given the same suggestion to Manshu. Please speak to him as well)
There are a number of tax free bonds in the market every year, for the past 3 years.
The interest rates are different for each bond in each year!
What makes it more complicated is that the interest rates are different for the same bond if you have got a direct allotment or bought it from the stock market.
Each one comes with a different date of interest payment.
With all this, it has become really difficult to track the interest payment. I also find it difficult to link the bonds to their Scrip ID and Code because of the long list of bonds in my statement.
I also don't know in which month will I receive the interest of the bonds that I purchased last year.
Would it be possible for you to have a table with the following details as one of your articles?
Company
Year of Issue
ISIN
Scrip Id
Scrip Code
Rate of Interest (Direct Allotment)
Rate of Interest (If purchased later)
Due date of interest
And anything else that you find appropriate…
I'm certain it would benefit a lot of people.
Regards,
Deepak
As both of us have been keeping very busy for the past many weeks, we were not getting enough time to cover this post and work on Deepak's requirements. As I just got time to cover this post, here is the table which should help most of us to keep ourselves updated with the deemed date of allotment of these tax-free bonds, their interest payment dates, BSE codes, NSE codes, maturity dates and their respective coupon rates applicable to the retail investors as well as other investors.
Tax-Free Bonds issued during Financial Year 2013-14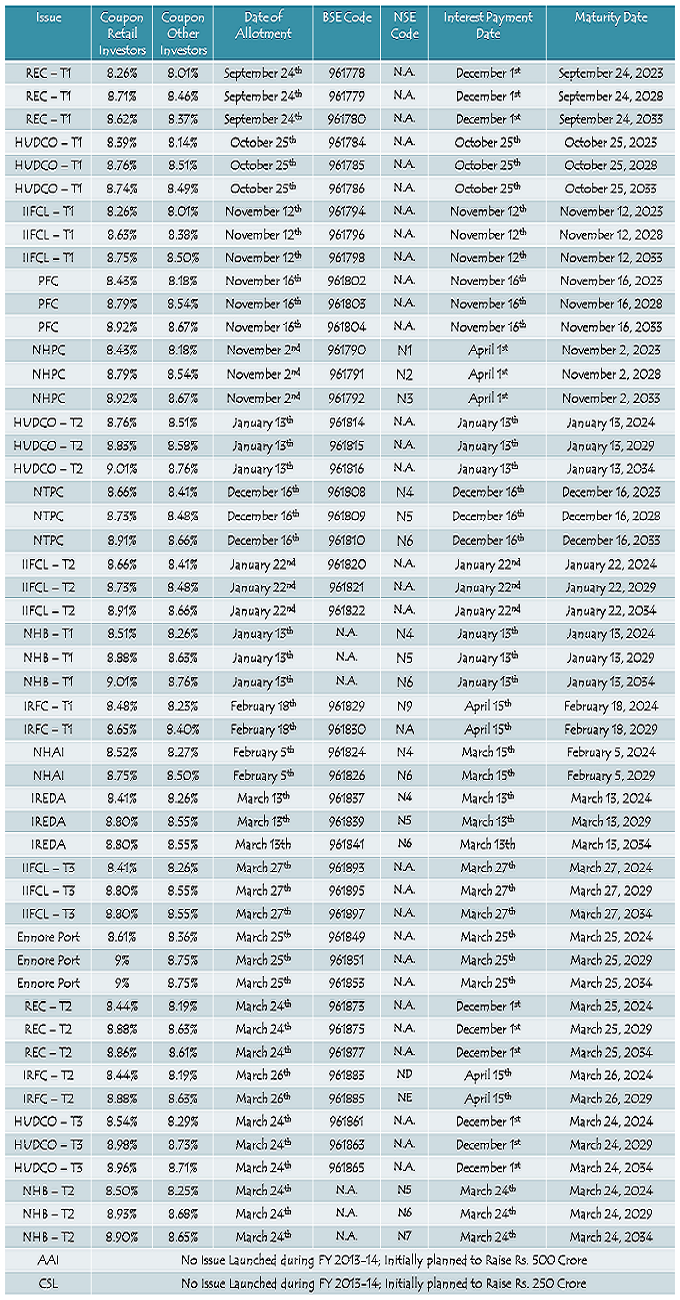 (Note: Table updated on March 31, 2014)
Deepak wanted us to cover these details for all the tax free bonds issued during the past three years. But, to begin with, I have covered these details only for the current financial year i.e. FY 2013-14. I want to experiment this post with the current financial year and will cover the details of previous years' tax-free bonds separately in two other posts. I'll also keep updating this table as and when the remaining companies launch their respective issues and get these bonds listed on the stock exchanges.
I would also request you to share your views regarding this post and suggest some more ideas for the other two posts so that I can cover more such details about these listed bonds.