The Nifty crossed 7,000 today, and continued the uptrend which started a few months ago or the bigger trend that started a few years ago.
If you look at the annual Nifty returns — 2011 returned a negative 25%, 2012 returned a positive 27%, 2013 returned about 7% and we have seen the Nifty up about 11% already this year.
This kind of optimism usually brings with it new investors, and emboldens existing investors to invest more in the markets, which is what we're seeing now as well.
AMFI reported that 400,000 new accounts were added last month taking the number of total equity folios to 29.56 million, which is still less than its peak of 41.13 million in March 2009, but does speak of people gaining confidence and returning to equity.  Interestingly, if you see the chart below you would see that the peak was reached in a year when the market did tremendously well. However, what the chart can't tell you is that the pain you feel when the market halves in value is much more than any 81% gain you could ever witness.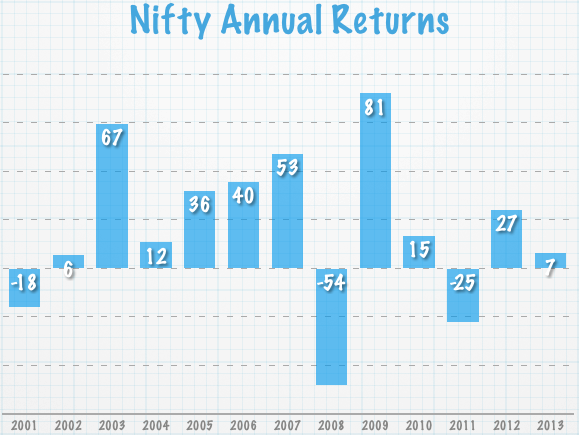 Even personally, I feel that more people are talking about equity right now than any time in the past and I have a feeling this will continue for at least a few more months.
In terms of investing strategy though, getting into the markets, and increasing your equity positions when there is optimism in the market is not the right way to go and I'd caution any readers who are only now getting into the market, or increasing their SIPs at this time.
What you should have ideally done is buy into the markets when they were depressed, and that would have ensured that you were sitting on considerable gains right now, but if you haven't done that and plan to chase returns right now, then that's a dangerous approach.
The long term plan of any investor should be to get into a mindset where they can put in a reasonable sum of money into equity every month, and adjust that sum upwards or downwards based on market conditions. The hard part about this is you must adjust that sum upwards when the market is down, and lower it a little when the market is up. I've been doing this for years now, and also recommending others do this, as I find that this is a certain way to accumulate stocks at a reasonable price, and then take advantage of market highs to book some profits from time to time.
If you're in the category of investors who don't have any equity investments, and want to start now then I'd say start with a SIP that is smaller than the maximum you can put in the markets. That way when the market falls, you can increase that allocation and take advantage of the fall.
If you are already in the market, and were thinking about increasing your allocation, then I'd say there is no reason to increase your allocation just on the basis of this market rise alone. The time to increase allocation will eventually come, and you will be able to take advantage of that if you position yourself from now and be in a mindset that looks for crashes and downfalls.
If you were investing when the market were down and are sitting on profits now – good job, and I hope OneMint had a small part to play in it.