This post is written by Shiv Kukreja, who is a Certified Financial Planner and runs a financial planning firm, Ojas Capital in Delhi/NCR. He can be reached at skukreja@investitude.co.in
After huge subscription for Snowman Logistics and Sharda Cropchem IPOs and a grand listing received by Snowman, next company in line to get itself listed on the stock exchanges is Shemaroo Entertainment Limited. The issue opened today for subscription and will remain open for two more days to close on September 18th.
The company plans to raise up to Rs. 120 crore from the issue and has fixed the price band between Rs. 156 to Rs. 170 a share. Retail individual investors will get a discount of 10% on the issue price, so the price band for them will stand between Rs. 139.50 to Rs. 153. Depending on the retail investors' response, the company will issue approximately 71 lakh to 77 lakh new shares in this IPO.
Promoters of the company are currently holding 90.14% stake in the company, which will come down to around 65% post this offer period.
About Shemaroo and its Business
Shemaroo is into the business of content aggregation and subsequent distribution of that content for broadcasting on television platforms, new media platforms like internet, DTH, mobile etc. and home videos i.e. Blu Ray, DVDs and VCDs. The company distributes content over which it has either complete ownership rights, referred to as "Perpetual Rights" or limited ownership rights, referred to as "Aggregation Rights".
Perpetual Rights gives Shemaroo the rights to distribute content worldwide for a perpetual period across all mediums. Aggregation Rights are restricted by either period of usage, distribution platforms, medium and geography or combination thereof. Titles where Shemaroo has Perpetual Rights or Aggregation Rights are known as their "Content Library".
Shemaroo's content library consists of more than 2,900 titles spanning new Hindi films like Queen, Bhaag Milkha Bhaag, Dedh Ishqiya, The Dirty Picture, Kahaani, OMG: Oh My God!, Black, Ishqiya, Omkara, amongst others and Hindi films classics like Zanjeer, Beta, Dil, Disco Dancer, Mughal-e-Azam, Amar Akbar Anthony, Namak Halaal, Kaalia, Madhumati etc. Out of these 2900+ titles, Shemaroo has perpetual rights of 759 titles and aggregation rights of 1,289 titles.
Objectives of the Issue – Out of Rs. 120 crore issue size, Shemaroo will use Rs. 106 crore to fund its working capital requirements and rest of the proceeds will be used for general corporate purposes.
Minimum/Maximum Subscription – Market lot of the issue is 85 shares and thus the investors would be required to invest at least Rs. 11,858 in this issue. Retail investors would be able to apply for a maximum of 1,275 shares at the 'Cut-Off' price.
Listing – The company will get its shares listed for trading on the National Stock Exchange (NSE) and Bombay Stock Exchange (BSE) within 12 working days from the closing date of the issue.
Risks
* Company's ability to successfully acquire the required content depends on its ability to maintain existing relationships and form new ones, with industry participants. While Shemaroo has benefitted from its long-standing relationships with certain industry participants in the past, there can be no assurance that it will be able to successfully maintain these relationships and continue to have access to content through such means.
* The media and entertainment industry keeps on undergoing significant technological developments. Its failure to adapt to new distribution technologies or alternative methods of product delivery and storage or changes in consumer behaviour could have a material adverse effect on its business prospects, financial condition and results of operations.
Anchor Investment – Two Anchor Investors, HDFC Mutual Fund and Birla Sun Life Mutual Fund, have been allotted approximately 21.18 lakh shares of the company at Rs. 170 per share, which works out to be approximately Rs. 36 crore.
HDFC Trustee Co. has been allotted approximately 8.82 lakh shares for HDFC Prudence Fund and 2.94 lakh shares for HDFC Capital Builder Fund, whereas Birla Sun Life Mutual Fund has been allotted 9.41 lakh shares for its seven equity schemes, including Series 1-Series 4 of Birla Sun Life Emerging Leaders Fund, Birla Sun Life Pure Value Fund and Birla Sun Life New Millenium Fund.
Financials of the Company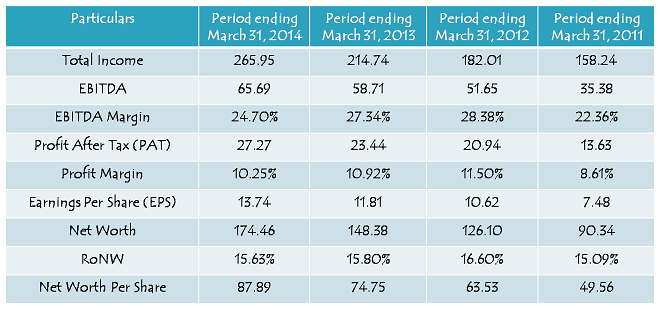 (Figures are in Rs. Crore, except per share data & percentage figures)
Valuations & Financial Standing of the Company
If you look at Shemaroo's revenues, EBITDA and profit after tax for the past few years, it seems the company is consistently making decent profits and the margins are fairly healthy. It has registered 68% growth in its revenues, 86% growth in its EBITDA and 100% growth in its net profit between FY11 and FY14.
But, the trouble seems to be a part of Shemaroo's balance sheet. The company has a debt of Rs. 151 crore, out of which Rs. 141 crore is short term debt. It paid Rs. 19 crore as interest charges during FY14 on the debt it has taken.
As on March 31, 2014, inventory levels and trade receivables of the company stood at Rs. 200.51 crore and Rs. 140.55 crore, which represent approximately 75% and 53% of its sales respectively. Such high levels of inventories and trade receivables sound quite alarming to me. The company do not expect any immediate improvement in the current situation anytime soon either.

Comparing the financials of Shemaroo with Eros International suggests that there is very little difference between the price multiples at which Eros is trading on the stock exchanges and at which Shemaroo is seeking the investors to invest in its shares. Given the complexities of its business model and the troubled financial standing Shemaroo has, I would say that the investors should not invest in this issue, rather they should invest their money in some other fundamentally sound businesses.