This post is written by Shiv Kukreja, who is a Certified Financial Planner and runs a financial planning firm, Ojas Capital in Delhi/NCR. He can be reached at skukreja@investitude.co.in
It was Amitabh Bachchan who started the trend of rewarding Rs. 1 crore to the individuals winning the most popular game show in the Indian television history – Kaun Banega Crorepati. Now, it is the turn of the legendary cricketer Kapil Dev who has picked up an undisclosed stake in SAMCO Securities Limited to conduct a tournament involving equity/commodity market participants with real market environment and real money getting invested.
"Dil Ki Nahi… Ye League Hai Dimaag Ki!" – You might have seen Kapil Dev in a few TV commercials on CNBC TV18 or CNBC Awaaz calling it to be a league of intelligence and not emotions and must be wondering what kind of league he is going to introduce which nobody in the media is talking about and even other cricketers are unaware of.
Starting from today, May 19, 2015, the league has been named as the Indian Trading League (ITL) and offers to reward its winner a cash prize of Rs. 1 crore and an opportunity to become a fund manager managing up to $1 million.
What is Indian Trading League (ITL)?
Indian Trading League (ITL) is a tournament which will monitor the performances of its registered traders/individuals across the country and rank them on the basis of their net returns. In order to outperform other participants, the traders will be required to showcase their investing and trading skills in a real market environment, with real money involved across asset classes including stocks, derivatives and commodities.
The trader with the highest net returns till March 31, 2016 will emerge as the winner of the Indian Trading League and stand to win a cash prize of Rs. 1 crore and also an opportunity to become a fund manager to manage up to $1 million of Sponsor's Proprietary Funds.
How to Participate in the Indian Trading League?
* Sign Up – You need to sign up on the ITL Online Platform and open an account with the Execution Broker, SAMCO Securities Limited.
* Introduce Capital – You will be required to deposit the minimum capital of Rs. 25,000 per business segment in your account to start trading. There will be two business segments – Equity Business Segment and Commodities Business Segment. You can withdraw your capital at any time during this period.
* Trading/Investing – Start trading or investing as per your investment style on the available exchanges – NSE, BSE and MCX.
Formats of the League
* Traders' League – It is the Master League where you can trade stocks, debt instruments, derivatives, currencies and IRFs listed on any of the Indian stock exchanges.
* Commodities League – It is the league where you can trade commodities listed on the Indian commodity exchanges.
* Investors League – It is the league of unleveraged participants where you can trade stock & debt instruments listed on the Indian stock exchanges.
* Women's League – It is the league of all female participants, who are also participating in the traders' league.
What Prizes are up for Grabs?
The League awards winners across different time periods – Weekly, Monthly, Quarterly and Annually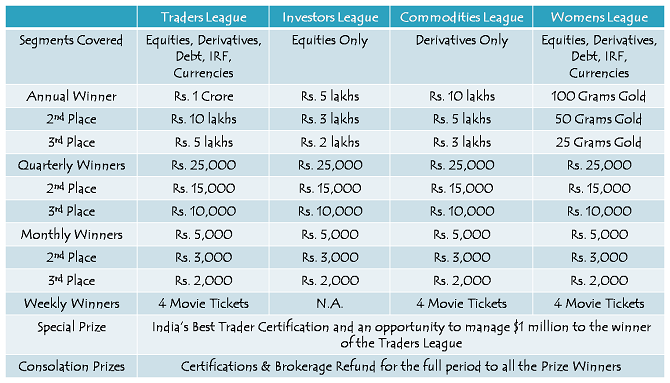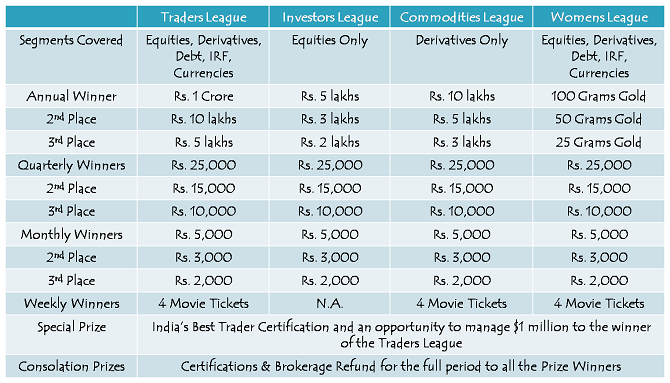 Minimum Round Trades Criteria for Qualification – Buying a stock & selling it intraday with a gain/loss of 2% is an example of a round trade for Traders' League. Likewise, selling a gold June futures contract and later on buying it back at a profit/loss of 1.5% is an example of a round trade for Commodities League.


Participation Fee – There is no participation fee or entry fee associated with this league and the participants can enter or exit the league at any time they wish to do so. Though the participants are required to pay the regular account opening charges, SAMCO has waived off these charges for a limited time period. All you need to do is to use the coupon code "100OFF" during checkout at the time of registration.
Brokerage Charges – You will be required to pay the brokerage commissions to the execution broker SAMCO which currently is at Rs. 20/executed Order + Statutory Levies.
If I am in the Investors' League, can I still participate in the Traders' League and vice versa?
Yes, every investor by default also forms a part of the Traders league however the same is not applicable vice versa. Participants in the trader's league who trade in F&O and Currency Derivative segments are not eligible in the Investors' League.
About SAMCO Securities Limited
SAMCO has been in the business of stock broking since 1993. Formerly, it was known as Samruddhi Stock Brokers Ltd, but now it has been rebranded as SAMCO Securities Limited. It is a SEBI registered broker with top management team consisting of professionals, Chartered Accounts, MBAs and Chartered Financial Analysts (CFAs) having decades of experience in the capital markets.
If you want to join the Indian Trading League, you need to email SAMCO at signup@indiantradingleague.com
If you need any other help, you need to email SAMCO at help@indiantradingleague.com
Here is their contact no. for any kind of assistance – 022 – 22227777
If you have any query regarding ITL or want to share any of your trading/investing experience in the Indian stock markets, please feel free to leave a comment.