This post is written by Shiv Kukreja, who is a Certified Financial Planner and runs a financial planning firm, Ojas Capital in Delhi/NCR. He can be reached at skukreja@investitude.co.in
Pharma sector stocks have been rising on the bourses for the last one year or so. Some stocks have given more than 50% returns in the last 9-12 months. Boosted by a recovery in the US and the European markets, these companies have reported good sales and profit growth. Investors have also given a big thumbs up to these companies resulting in huge gains.
But, the last 10-15 days have been troublesome for these stocks. A few days back, Sun Pharma issued a profit warning resulting in a selloff in its own stocks as well as other pharma stocks as well, followed by a disappointing quarterly performance by Lupin Limited. These two events have shaken the investors' confidence in the sector.
Just when the sentiment has turned negative for the sector and for the markets as well, Syngene International, a 83.6% subsidiary of Biocon Limited, has come out with its initial public offer (IPO). The issue consists of an offer for sale by the company's promoter Biocon Limited. Biocon plans to sell its 11% stake in this IPO selling 2.2 crore shares in the price band of Rs. 240-250, thus raising Rs. 550 crore from the primary markets. The issue got opened yesterday and will get closed tomorrow.
About Syngene Limited
Incorporated in 1993 and headquartered in Bengaluru, India, Syngene is a 83.6% subsidiary of Biocon Limited. The company is one of the leading contract research organisations (CRO), offering a suite of integrated, end-to-end discovery and development services for novel molecular entities (NMEs) across industrial sectors, including pharmaceutical, biotechnology, agrochemicals, consumer health, animal health, cosmetic and nutrition companies.
Syngene's service offerings in discovery and development cover multiple domains across small molecules, large molecules, antibody-drug conjugates (ADC) and oligonucleotides. Its integrated discovery and development platforms help organisations conduct discovery, development and pilot manufacturing under one roof with a distinctive economic advantage. The company intends to forward integrate into commercial-scale manufacturing of NMEs.
The company has several long-term relationships and multi-year contracts with its clients, including three long-duration multi-disciplinary partnerships, each with a dedicated research centre, with three of the world's leading global healthcare organisations Bristol-Myers Squibb, Abbott Laboratories (Singapore) Pte. Ltd. and Baxter International, Inc.
What's on Offer?
Syngene has fixed its price band to be between Rs. 240-250 per share. There is no discount for the retail investors. The issue is a complete offer for sale of shares by its promoter, Biocon Limited. Syngene will not receive any proceeds in this offer.
The offer comprises of a sale of approximately 2.2 crore shares to the investors. 35% of the issue size is reserved for the retail individual investors. At Rs. 250 per share, Biocon is expected to raise approximately Rs. 550 crore.
Anchor Investors – Syngene issued approximately 60 lakh shares to the Anchor Investors, namely GIC, Goldman Sachs, Morgan Stanley, Deutsche Bank etc., at Rs. 250 per share, thereby raising Rs. 150 crore.
Bid Lot Size – Investors need to bid for a minimum of 60 shares and in multiples of 60 shares thereafter. So, a retail investor would be required to invest a minimum of Rs. 15,000 at the upper end of the price band and Rs. 14,400 at the lower end of the price band.
Objective of the Issue – There is no fresh issue of equity shares by Syngene in this IPO. The funds raised by the sale of shares in this offer will not go to the company. The primary objectives of the offer are to achieve the benefits of listing and carry out the share sale by the promoter Biocon. Funds mobilized will be utilized for the capex planned by Biocon for developing its biosimilars and enhancing the manufacturing capacities.
Listing – The shares of the company will get listed on both the exchanges i.e. National Stock Exchange (NSE) and Bombay Stock Exchange (BSE).
Financials of the Company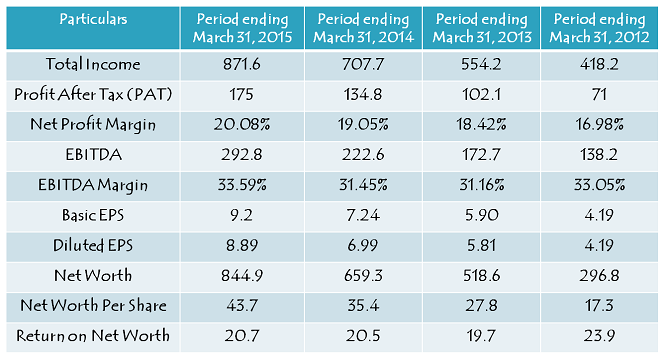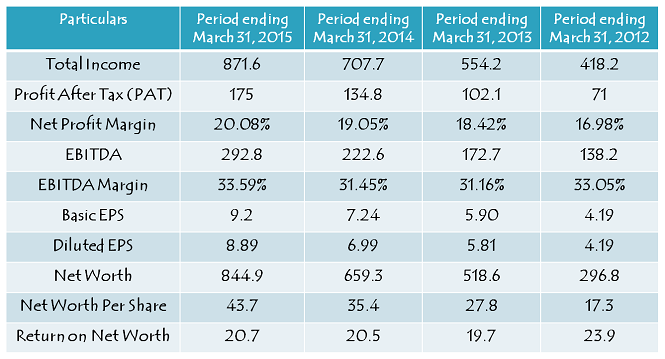 Note: Figures are in Rs. Crore, except per share data & percentage figures.
For the financial year ended March 31, 2015, Syngene reported total revenue of Rs.  871.6 crore as against Rs. 707.7 crore for the year ended March 31, 2014. The company reported profit after tax (PAT) of Rs. 175 crore for the financial year ended March 31, 2015 as against Rs. 134.8 crore for the financial year ended March 31, 2014.
The company reported EBITDA margin of 33.59% for the period ended December 31, 2015, 31.45% for the year ended March 31, 2014 and 31.16% for the year ended March 31, 2013.
Should You Subscribe or Not?
Syngene has been performing consistently well in an uncertain business environment and contributing significantly to its parent Biocon. The company is seeking a valuation of 28.6 times its FY15 earnings, which seems to me on a slightly higher side. I think for a consistently growing company with strong fundamentals, a strong promoter group, efficient management and a talented team of qualified scientists, these valuations are reasonably justified. I expect its stock price to list at a premium of 20-30% and to double from its expected allotment price of Rs. 250 in the next 2-3 years time.