This post is written by Shiv Kukreja, who is a Certified Financial Planner and runs a financial planning firm, Ojas Capital in Delhi/NCR. He can be reached at skukreja@investitude.co.in
A couple of years ago when the US economy was not doing well, Indian IT sector was booming. Brokerage houses and IT analysts were upgrading IT companies like HCL Technologies, Tech Mahindra, TCS etc. and raising their price targets after every review of quarterly results. But, as the US economy has started to recover, the fortunes of these companies have taken a complete U-turn.
Most of these companies are seeing a cut in the spending budgets of their clients and slower ramp-ups in few of their clients across different verticals. Uncertainty due to Brexit is also a cause of worry for these companies.
Amid these uncertainties and a worrisome slowdown, L&T Limited, the parent company of L&T Technology Services (L&T Tech), has decided to sell its 10.2% stake in L&T Tech and get it listed on the stock exchanges. This offer for sale (OFS) has already started and will get closed on September 15.
This initial public offer (IPO) comprises of an offer for sale of 1.04 crore shares of Rs. 2 each to the investors. L&T Limited, holding 100% stake in L&T Tech, will be selling all of these 1.04 crore shares in this IPO. This constitutes 10.2% of L&T Tech's post-offer paid-up equity share capital.
Here are some of the salient features of this IPO:
Retail Allocation – 35% of the issue size is reserved for the retail individual investors (RIIs) i.e. 36.4 lakh shares out of 1.04 crore shares on offer, 15% is reserved for the non-institutional investors and the remaining 50% shares will be allocated to the qualified institutional buyers (QIBs).
Price Band – L&T Tech has fixed its price band to be between Rs. 850-860 per share and no discount will be there for the retail investors.
Anchor Investors – L&T has already sold 30% of its shares on offer i.e. 31.2 lakh shares, to 19 Anchor Investors at Rs. 860 per share. This amounts to Rs. 268.32 crore in the offer. These investors include Sundaram Mutual Fund, Copthall Mauritius Investment, DSP BlackRock, HDFC Trustee Company, Canara Robeco Mutual Fund and ICICI Prudential Life Insurance, FIL Investments (Mauritius), BlackRock India Equities (Mauritius) and Parvest Equity World Emerging among others.
Bid Lot Size & Minimum Investment – Investors need to bid for a minimum of 16 shares and in multiples of 16 shares thereafter. So, a retail investor would be required to invest a minimum of Rs. 13,760 at the upper end of the price band and Rs. 13,600 at the lower end of the price band.
Maximum Investment – Individual investors investing up to Rs. 2 lakh are categorised as retail individual investors (RIIs). As a retail investor, you can apply for a maximum of 14 lots of 16 shares in this IPO i.e. a maximum investment of Rs. 1,92,640.
Objective of the Issue – At the upper range of its price band, L&T will be able to raise Rs. 894.40 crore from this issue. As it is an OFS and no fresh shares will be issued, L&T Tech will not get any proceeds from this IPO.
Listing – The shares of the company will get listed on both the stock exchanges i.e. National Stock Exchange (NSE) and Bombay Stock Exchange (BSE) within 6 working days after the issue gets closed on 15th September.
Here are some other important dates after the issue gets closed:
Finalisation of Basis of Allotment – On or about September 20, 2016
Initiation of Refunds – On or about September 21, 2016
Credit of equity shares to investors' demat accounts – On or about September 22, 2016
Commencement of Trading on the NSE/BSE – On or about September 23, 2016
Financial of L&T Technology Services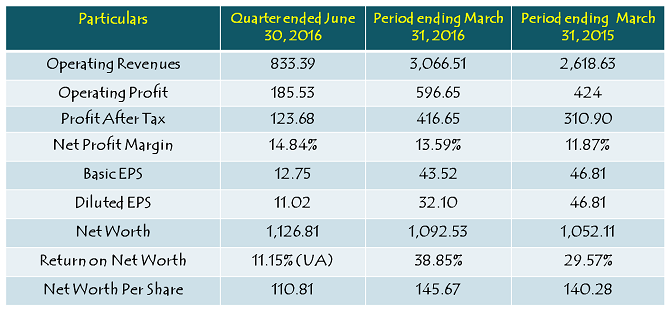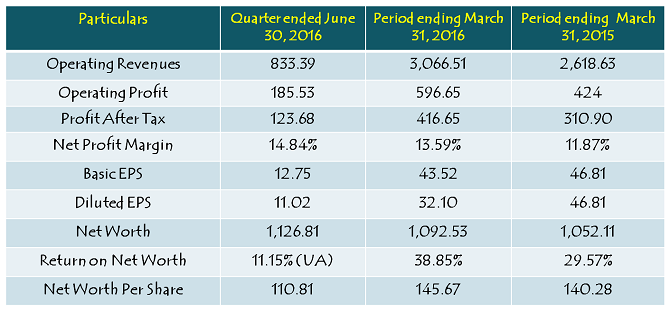 Note: Figures are in Rs. Crore, except per share data & percentage figures
Peer Comparison
Key Customers – BMW, Calsonic Kansai, Caterpillar, Danaher, Eaton, Intel, John Deere, P&G, Rockwell Automation, Scania, Shell and UTC are L&T Tech's key customers and partners across different segments.
Should you invest in L&T Tech IPO?
Poor listing of L&T Infotech and a subdued sentiment prevailing in the IT sector have made analysts and investors cautious about this IPO. L&T Tech's offer price band seems to be stretched when you compare its valuations with some of its listed peers and L&T Infotech as well. But, you need to give it a consideration that L&T Tech is a younger player of the niche segment it is operating in, with an experienced management.
L&T's management has a deep understanding of the businesses it is servicing through L&T Tech. That is what makes this company command a premium over L&T Infotech and other peers in this segment. The only concern I have is the valuation L&T is demanding for its stake sale. At Rs. 850-860 a share, I think it is slightly on a higher side. However, you should expect this company to perform well going forward and also consider investing in it once listed.