This post is written by Shiv Kukreja, who is a Certified Financial Planner and runs a financial planning firm, Ojas Capital in Delhi/NCR. He can be reached at skukreja@investitude.co.in
Stock markets are trading at 52-week highs and very close to their lifetime highs. Investors are getting impatient and hunting for new opportunities to invest their money. To tap these favourable market conditions, Music Broadcast Limited (MBL), which runs FM radio stations Radio City and Radio Mantra across 37 Indian cities, has decided to raise Rs. 400 crore from investors and get itself listed on the stock exchanges. MBL is an 89.40% subsidiary of Jagran Prakashan Limited (JPL).
Its initial public offer (IPO), which opened yesterday i.e. March 6, is a combination of fresh issue of shares worth Rs. 400 crore and a simultaneous sale of 26.59 lakh shares by the members of its promoter group, thus making it a Rs. 489 crore issue. The issue will remain open for two more days to close on March 8 and the company is targeting March 17 to start trading on the exchanges.
Before we take a decision to invest in this issue or not, let us quickly check some of the main features of this IPO:
Price Band – MBL has fixed its price band to be between Rs. 324-333 per share and no discount has been offered to the retail investors.
Size & Objective of the Issue – As mentioned above, MBL is targeting to raise Rs. 400 crore from this IPO, while its existing shareholders are selling 26,58,518 shares. So, at Rs. 333 a share, it would turn out to be a Rs. 489 crore IPO. Out of Rs. 400 crore, MBL plans to use Rs. 200 crore for the payment of maturity proceeds against its listed NCDs, Rs. 82.74 crore towards early redemption of NCDs issued to JPL, Rs. 15.50 crore towards repayment of inter-corporate deposits (ICDs) of JPL and the remaining proceeds for general corporate purposes.
Retail Allocation – 35% of the issue size is reserved for the retail individual investors (RIIs), 15% is reserved for the non-institutional investors and the remaining 50% shares will be allocated to the qualified institutional buyers (QIBs).
No Discount for Retail Investors – MBL has decided not to offer any discount to the retail investors.
Anchor Investors – MBL has already sold approximately 44.01 lakh to the anchor investors @ Rs. 333 a share. These investors have bought shares worth Rs. 146.56 crore. These anchor investors include HSBC India Equity Mother Fund, Nomura Funds Ireland – India Equity Fund, Franklin India Smaller Companies Fund, Morgan Stanley Mauritius, Pictet Country (Mauritius), HDFC Prudence Fund, ICICI Prudential Midcap Fund, HDFC Standard Life Insurance, SBI Life Insurance, Birla SL Insurance and India Midcap (Mauritius).
Bid Lot Size & Minimum Investment – Investors need to bid for a minimum of 45 shares and in multiples of 45 shares thereafter. So, a retail investor would be required to invest a minimum of Rs. 14,985 at the upper end of the price band and Rs. 14,580 at the lower end of the price band.
Maximum Investment – Individual investors investing up to Rs. 2 lakh are categorised as retail individual investors (RIIs). As a retail investor, you can apply for a maximum of 13 lots of 45 shares @ Rs. 333 i.e. a maximum investment of Rs. 1,94,805. At Rs. 324 per share as well, you can apply only for 13 lots of 45 shares, thus making it Rs. 1,89,540.
Listing – The shares of the company will get listed on both the stock exchanges i.e. National Stock Exchange (NSE) and Bombay Stock Exchange (BSE) within 6 working days after the issue gets closed on 8th March. March 17th is the tentative date for its listing.
Here are some other important dates after the issue gets closed:
Finalisation of Basis of Allotment – On or about March 14, 2017
Initiation of Refunds – March 15, 2017
Credit of equity shares to investors' demat accounts – On or about March 16, 2017
Commencement of Trading on the NSE/BSE – On or about March 17, 2017
Financial of Music Broadcast Limited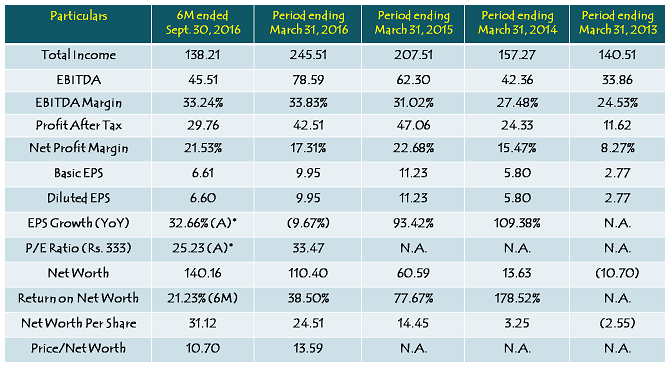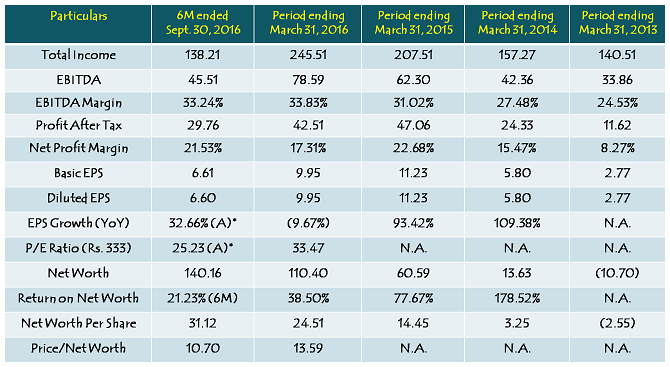 Note: Figures are in Rs. Crore, except per share data & percentage figures
Financials of ENIL – Entertainment Network (India) Limited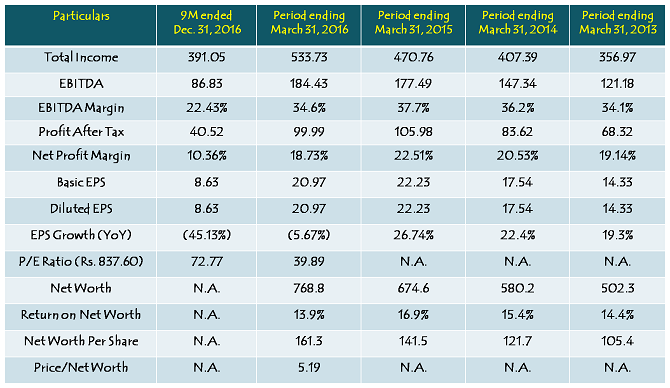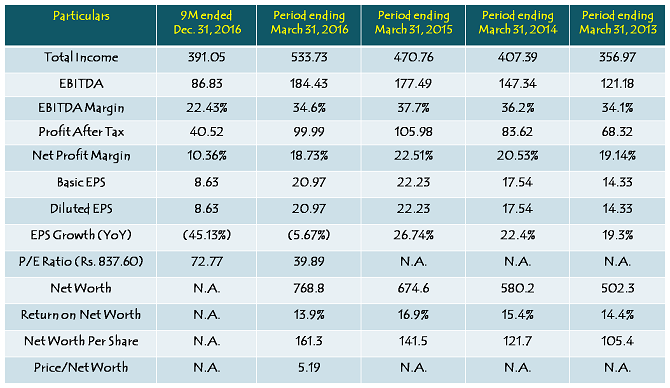 Note: Figures are in Rs. Crore, except per share data & percentage figures
Should you invest in MBL IPO @ Rs. 333 a share?
Comparing MBL's financials with that of ENIL makes this IPO look reasonably valued at a P/E ratio of 25.23 times its annualised EPS for the current financial year as against ENIL's expected EPS of Rs. 11.51 and 72.77 PE ratio. At Rs. 333 a share, MBL will have an enterprise value of close to Rs. 1,900 crore. Based on its annualised EBITDA of Rs. 91 crore, it will be valued at an EV/EBITDA of 21 times. ENIL currently has a market cap of Rs. 3,993 crore and based on its annualised EBITDA of Rs. 116 crore, it will be valued at 34.5 times EV/EBITDA. These valuations make MBL look attractively valued at Rs. 333 a share.
However, there are two factors to consider here. Firstly, ENIL's financial performance has been notably bad in the current financial year. We all know such ups and downs are part of a company's business fortunes. As there is no other listed company to make a comparison, I think ENIL's bad financial performance should not be taken as a great comfort factor for MBL's valuations. Secondly, Price to Book Value (P/BV) of MBL in double digits and its PE ratio of 25 times based on current year's projected EPS of Rs. 13-14 also makes it not so attractive to me.
Moreover, Radio business is expected to get more and more competitive in the coming months and years. Entry of new players in an already competitive space might have an adverse impact on existing players' financial performance going forward, including MBL.
Given an expected high subscription from the retail investors and slightly higher valuations, I would personally give it a miss for my investments and explore other better opportunities post the poll outcome in UP and other states on 11th March.