This post is written by Shiv Kukreja, who is a Certified Financial Planner and runs a financial planning firm, Ojas Capital in Delhi/NCR. He can be reached at skukreja@investitude.co.in
Finalisation of Basis of Allotment – On or about April 2, 2018
Initiation of Refunds – On or about April 3, 2018
Credit of equity shares to investors' demat accounts – On or about April 4, 2018
Commencement of Trading on the NSE/BSE – On or about April 5, 2018
Financials of ICICI Securities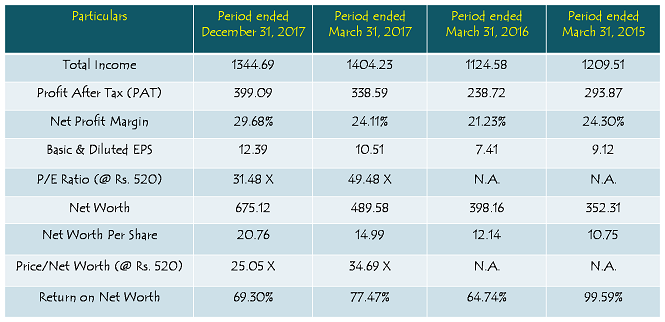 Note: Figures are in Rs. Crore, except per share data & percentage figures
Peer Comparison

Note: Market Caps and Market Prices are dated March 20, 2018. EPS have been annualised taking 9-month EPS as on December 31, 2017.
Should You Invest in ICICI Securities IPO @ Rs. 520?
Suppose, you buy 100 shares of Infosys at Rs. 1,100 with a price target of Rs. 1,150 in say a month or so. But, within a week, without any positive news or development, its stock price zooms to Rs. 1,150 odd levels. You book your profits in this trade and start expecting the stock price to come down the very next moment you sell it. It doesn't come down and moves to Rs. 1,200 within a fortnight. You don't buy it, but decide to buy it again at Rs. 1,150, the same price level you sold it at. It comes down to Rs. 1,150, you buy it again at Rs. 1,150 and decide to sell it at Rs. 1,220.
It goes down till Rs. 1,100, but you don't sell it as you had decided to sell it only when it touches Rs. 1,220 or more. It goes up again to touch Rs. 1,220 levels, you sell it at Rs. 1,220 and again start expecting it to come down as you had just sold it in the expectation of its price to come down. This way, you buy and sell Infosys five times as it reaches Rs. 1,350. This is just a hypothetical example, but I think something similar happens with many of us in a bull market.
But, when the markets start correcting or a bear market takes over, we don't square-off the same Infosys position at Rs. 1,050 (bought at Rs. 1,100 in the anticipation of Rs. 1,150). Not even at Rs. 1,000. Not even at Rs. 950. Not even at Rs. 900. Not even if goes down to Rs. 600. Then we stop logging on to our trading platforms, become investors (from traders) and decide to sell our holdings only when they bounce back to our cost price. Though something of this sort does not happen with every trader or investor, but something similar is common with most of us. I think you would agree.
So, in a bear market, we trade less frequently, and in turn, our broking firms get less brokerage from us. Similarly, in a bull market, we make money and in turn, generate good brokerage for our broking firms. Something similar happened in the first three quarters of the current financial year and like most other broking firms, ICICI Securities too raked the moolah out of it and its 9-month revenues and profits in FY 2017-18 exceeded its full year revenues and profits of FY 2016-17.
Even with best of its financial performance, the price/earnings multiple ICICI Securities is seeking in this IPO is at 31.48 times its 9-month annualised EPS for the current financial year. I think it is on a higher side, as I don't expect stock markets to  have such similar uninterrupted upswings on a consistent basis. Like stock markets, financial performances of broking companies too are volatile. The company had an EPS of Rs. 7.41 during FY 2015-16. Imagine a similar year in which the company earns an EPS of say Rs. 8. At Rs. 520 a share or above, it would be valued at 65 times or more.
So, if you are a bull right now and have a view that the Indian stock markets will have a healthy upward movement in the next 3-5 years, and most importantly, ICICI Securities will be able to cash it one way or the other, then you should definitely subscribe to it. Conservative or risk-averse investors should avoid it.