This post is written by Shiv Kukreja, who is a Certified Financial Planner and runs a financial planning firm, Ojas Capital in Delhi/NCR. He can be reached at skukreja@investitude.co.in
ICICI Securities Limited, a wholly-owned subsidiary of ICICI Bank, is entering the primary markets with its initial public offer (IPO) of 7.72 crore shares worth Rs. 4,017 crore. The offer would constitute 23.98% of the company's post-offer paid-up equity share capital. Price band of the IPO is in a very narrow range of Rs. 519-520 a share and no discount has been offered by the company to the retail investors.
The issue is getting opened for subscription from Thursday, March 22 and will remain open for three business days to close on March 26. This IPO is a 100% offer for sale (OFS) by its promoter ICICI Bank and hence ICICI Securities will not get any money out of this IPO for its further expansion.
Here are some other salient features of this IPO:
Only 10% Issue is for Retail Investors – Only 10% of the issue size, excluding the portion reserved for the ICICI Bank shareholders, is reserved for the retail individual investors (RIIs) i.e. approximately 73.38 lakh shares out of total 7.72 crore shares on offer. 15% of the issue is reserved for the non-institutional investors (NIIs) and the remaining 75% shares will be allocated to the qualified institutional buyers (QIBs).
Bid Lot Size & Minimum Investment – Investors need to bid for a minimum of 28 shares and in multiples of 28 shares thereafter. So, a retail investor would be required to invest a minimum of Rs. 14,560 at the upper end of the price band and Rs. 14,532 at the lower end of the price band.
Maximum Investment – Individual investors investing up to Rs. 2 lakh are categorised as retail individual investors (RIIs). As a retail investor, you can apply for a maximum of 13 lots of 28 shares in this IPO i.e. a maximum investment of Rs. 1,89,280.
Objective of the Issue – As the entire issue proceeds will go to ICICI Bank, being the promoter of the company, the primary objective of the offer for ICICI Securities is to enhance its visibility and brand image by getting listed on the stock exchanges.
Listing – The shares of the company will get listed on both the stock exchanges i.e. National Stock Exchange (NSE) and Bombay Stock Exchange (BSE) within 6 working days after the issue gets closed on 26th March. Here are the important dates after the issue gets closed:
Finalisation of Basis of Allotment – On or about April 2, 2018
Initiation of Refunds – On or about April 3, 2018
Credit of equity shares to investors' demat accounts – On or about April 4, 2018
Commencement of Trading on the NSE/BSE – On or about April 5, 2018
Financials of ICICI Securities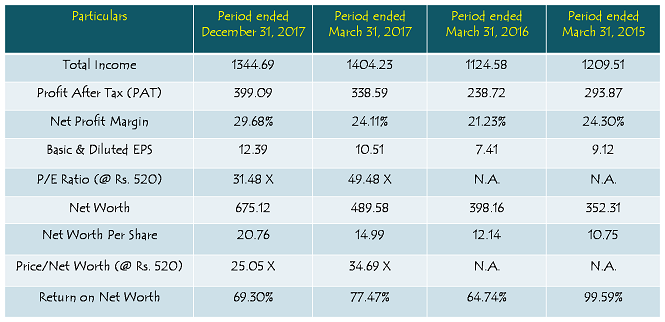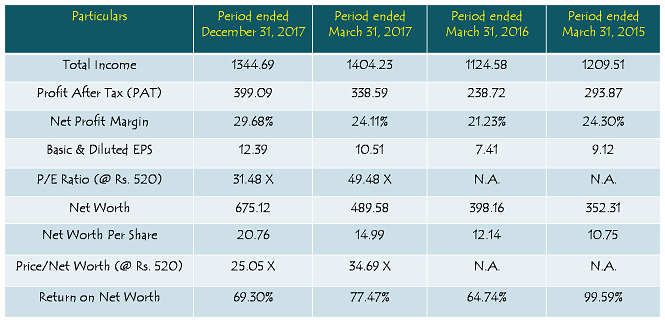 Note: Figures are in Rs. Crore, except per share data & percentage figures
Peer Comparison


Note: Market Caps and Market Prices are dated March 20, 2018. EPS have been annualised taking 9-month EPS as on December 31, 2017.