This post is written by Shiv Kukreja, who is a Certified Financial Planner and runs a financial planning firm, Ojas Capital in Delhi/NCR. He can be reached at skukreja@investitude.co.in
Finalisation of Basis of Allotment – On or about March 22, 2018
Initiation of Refunds – On or about March 23, 2018
Credit of equity shares to investors' demat accounts – On or about March 26, 2018
Commencement of Trading on the NSE/BSE – On or about March 27, 2018
Financials of Bandhan Bank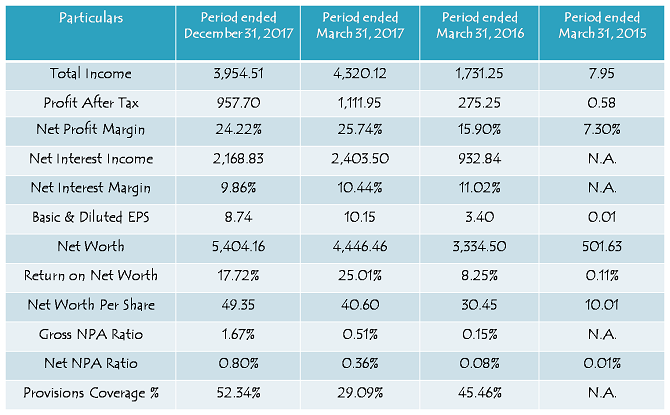 Note: Figures are in Rs. Crore, except per share data & percentage figures.
For the financial year ended March 31, 2017, Bandhan Bank reported a total income of Rs. 4320 crore as compared to Rs. 1,731 crore it reported during financial year 2015-16, registering a growth of 149.57% in the last one year. The bank reported profit after tax (PAT) of Rs. 1,112 crore for the financial year ended March 31, 2017 as against Rs. 275 crore for the financial year ended March 31, 2016, posting a growth of 304% CAGR.
Bank's net interest margins (NIMs) are the most impressive at 10.44% in FY 2016-17, which have fallen marginally to 9.86% during 9-months ended December 31, 2017. However, its asset quality has also deteriorated somewhat, but given the market scenario, it is still well within investors' comfort zone.
Should you subscribe to Bandhan Bank IPO @ Rs. 370-375?
Having commenced its banking operations in August 2015, Bandhan Bank is a relatively new bank, with 887 bank branches, 430 ATMs and 2,633 doorstep service centres (DSCs). Bandhan Bank's distribution network is particularly strong in east and northeast India, with West Bengal, Assam and Bihar together accounting for 56.37% and 57.58% of its branches and DSCs respectively, as of December 31, 2017.
Though its net interest margins (NIMs) stand healthy at 9.86% as on December 31, 2017, I don't think the bank will be able to maintain such NIMs going forward. As the bank expands its base and reaches out to other areas where it does not currently have exposure to, its margins are bound to go down. As far as its asset quality is concerned, the bank has so far been able to maintain it at a remarkably low levels. But, there too, the NPAs are bound to go up as the bank diversifies its operations and expands its loan book.
As the issue gets closed on Monday at Rs. 375 a share, Bandhan Bank will have a market cap of Rs. 44,730 crore, price to book value of 4.53 times and price to earnings ratio of 32.19 times its FY18 earnings. As compared to Bandhan, RBL's market cap is Rs. 19,962 crore, P/BV ratio is 4.12 times and P/E ratio is 32.49 times, Yes Bank's market cap is Rs. 71,934 crore, P/BV ratio is 3.23 times and P/E ratio is 17.96 times, and IndusInd Bank's market cap is Rs. 1,04,579 crore, P/BV ratio is 5.05 times and P/E ratio is 29.78 times. So, at these relative valuations, Bandhan Bank looks grossly expensive to me.


Note: Market Caps and Market Prices are dated March 15, 2018. Book Values are of March 31, 2017. EPS have been annualised taking 9-month EPS as on December 31, 2017.
IFC bought its stake in Bandhan Bank 2 years back in February 2016 at Rs. 42.93 a share for a total investment of Rs. 232 crore. I have no doubt that the bank has done remarkably well to grow itself multifold in the last 2 years. But, even then, does the bank really deserve a 9-times jump in its asking value within a span of just 2 years?
More recently, in December 2017, Bandhan's MD & CEO, Chandra Shekhar Ghosh, exercised his right to acquire the bank's shares at Rs. 180 a share through equity stock options (ESOPs). Though it has been done in a fair manner and he has all the right to do so as he has worked hard for the bank, I think it would have been better had the bank left something on the table for the investors too.
Given the bank is growing at a speed no other bank is growing, I think it has the potential of giving listing gains to its investors. But, the big question is – should you invest in this IPO just for its expected listing gains? I don't think so. You need to ask yourself whether I am investing in stock markets just for having listing gains in an IPO or to create long term wealth for myself. I think the valuations are stretched for this IPO and it could have a big fall if the market sentiment takes a U-turn from here, or there is some kind of a red flag for the company.