Shiv and I have been working with some paid clients during the last few months, and have been experimenting with various type of services, and we are now ready to announce this on the blog, and reach out to a wider audience.
There are two services that we are going to offer, and I'm going to talk about each of them in this post.
Comprehensive Financial Planning
Service
The first type of service is full blown financial planning, and we have developed a five step process for this. We conduct a weekly call and follow that up with a report at the end of each week.
You can see what each step of the process entails in the table below.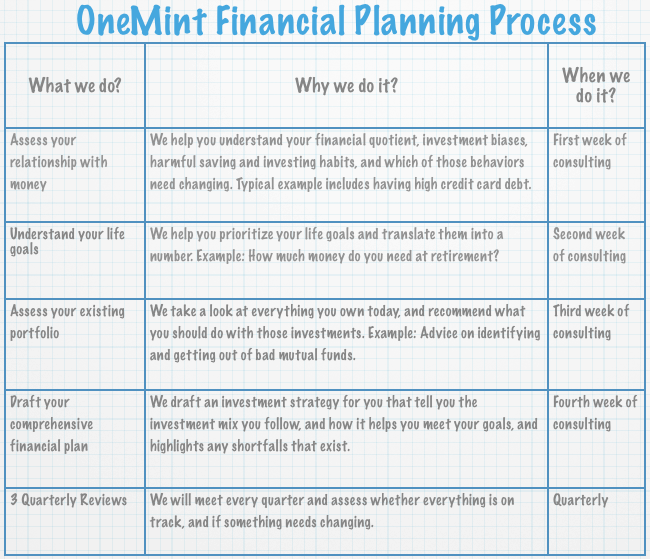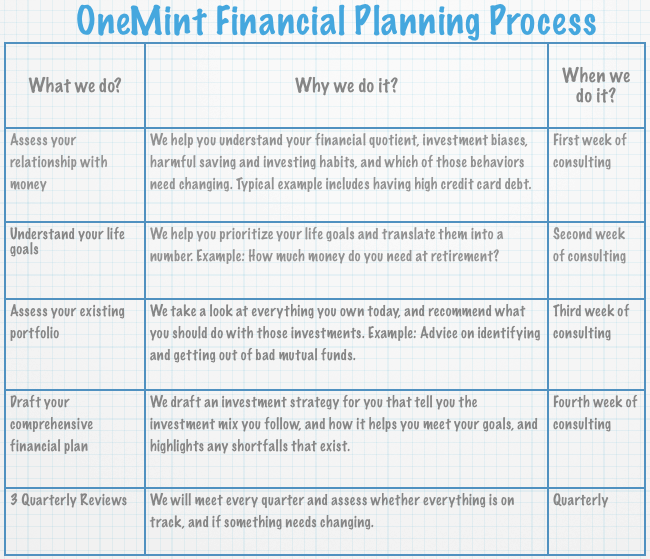 Each of the steps above lead into the next step, and finally helps prepare the comprehensive plan.
Fee
We will charge a fee of Rs. 15,000 for this service, which needs to be paid before we start the engagement.
Money Back Guarantee
We offer a no questions asked, money back guarantee that you can invoke at any time during the process and extends till 5 days after you receive the comprehensive financial plan.
There is no trick or hidden clause or disclaimers associated with this guarantee. We feel that 15,000 is not a small amount of money and if anyone feels that it has not been wisely spent, and they haven't got their money's worth, they should have it back. The loss in time and effort will be ours, and we will not ask you any questions or try to convince you of the value of the service. If the value wasn't apparent enough to you during the process, then you needn't pay for it.
One Time Consulting
Service
There are often circumstances that need you to answer a question which requires some financial expertise. For example, you get a lump-sum, and need to know the best way to invest it to generate a monthly income, or you have your portfolio assessed, and need recommendation on what to do next. This type of analysis needs a couple of hours, and if you send your question to us, we'll let you know if we can do this or not. We will have a call with you, and send out a written report here for this as well.
Fee
We will charge a fee of Rs. 2,000 for this service, which needs to be paid before we start the engagement.
Money Back Guarantee
The guarantee that we offer on the full blown consulting is applicable here as well, if you think your money wasn't well spent, we will return it to you without any questions
Our Contact
Please write your email to onemint@gmail.com