In the last poll I asked if you hold stocks, mutual funds or both as part of your portfolio, and I thought I'd sum up the results in a slightly different manner than usual (my wife did most of the work actually).
Here is a neat little graphic that shows the breakup of your results, some of the more interesting comments, and then a couple of my notes.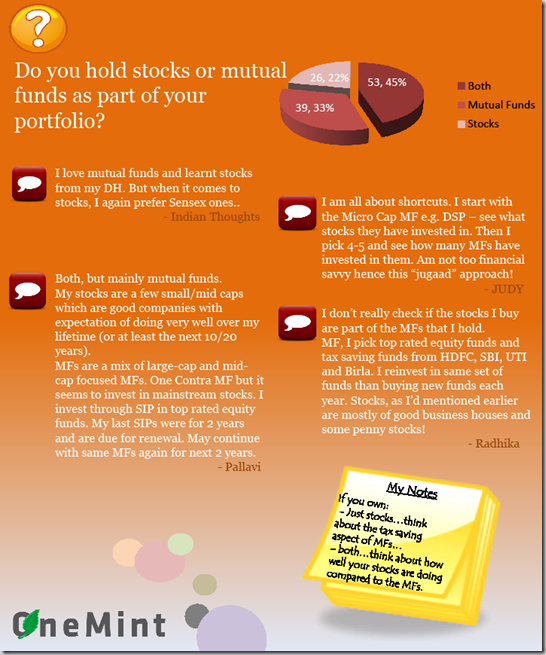 The first note is for people who own just stocks, and if you are salaried and pay taxes, then you are losing out by not investing in tax saving mutual funds.
If you don't reach the maximum rebate limit through other instruments, and have any meaningful investment in stocks, then do think about the tax saving aspect of such mutual funds, and the effective return you get due to the tax rebate.
The second note, and this is more of a question is for people with both stock and mutual fund investments. Have you ever seen how your own picks compare with the fund returns?
It will be well worth your time to make notes, and compare how well your own stock picks have done when compared with the mutual funds you own. Beating the market is at least quite difficult (if not impossible), and if you find that the mutual funds are doing a lot better than your own stock picks by virtue of being index linked, professionally managed or just because you have a SIP going, then it's time to rethink this strategy as well.
Thanks to all for voting and leaving comments, and please do leave a comment here as well.