This post is about ETFs listed in the US that allows American investors to invest in India. There are currently 7 such India ETFs, and the biggest among them is Wisdom Tree's India Earnings Fund (EPI), which is over 3 years old and has assets worth about $1.5 billion.
Powershares India Portfolio (PIN) is the second largest with over half a billion worth of assets under management.
You can take a look at all the seven India ETFs and see how they performed in 2010 in the table below.
(1 Year returns and dividend data taken from Google Finance)
The Direxion ETFs are leveraged ETFs that aim to give you double the daily returns of their index, and by their very nature are not suited for long term investing.
The Emerging Global Shares ETFs focus on small cap and infrastructure in the Indian space, and are only suitable if you want to bet on these specific areas of the market.
That leaves us with three funds – EPI, PIN and INDY that an investor can look at if they want to invest in the broader Indian market.
Large overlap among India ETFs
The interesting thing about these funds is though they follow different indices there is a big overlap in terms of their top holdings and the sectors they invest in.
You can see how they share their top holdings from the chart below.
These holdings are as on April 20 2011.
The holdings change for these funds but you can see that they do share a lot of common stocks and though the percentage varies, with the exception of SBI – all three have relatively big stakes in the same company.
Despite, this INDY has done much better than the other funds, but it's anybody's guess if it will continue to do so.
INDY's performance made me look at how it performed against the index it was supposed to track and I was surprised to see the following chart.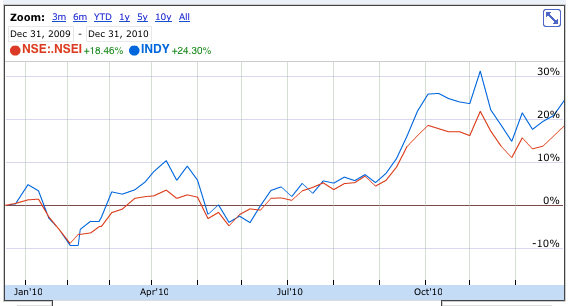 As you can see INDY has beaten it's underlying index by quite a margin!
I think this is because INDY has benefited from USD – INR exchange rate movement in the last year and while their holdings must have lagged Nifty performance by a bit (due to expenses) the currency movement has juiced up their returns and made them do better than their underlying index itself.
Conclusion on the Best India ETF
For most foreign investors – the larger question is probably whether you want to bet on the Indian market or not, but once you're done making that decision – these 3 funds give you a good exposure and it's hard to pick one over the other.
Personally, if I had to invest in an India ETF – out of the 7 currently present in this space – I would opt for INDY because it tracks a popular Indian index, comes from a well known fund provider, has low expenses, reasonable volume size, and has done a good job of tracking its index as well.
Disclosure: No investments in any ETF mentioned here.