Recently I wrote about the IFCI Tier II Bonds, and Shiv and Value Investor commented on that post letting me know that Muthoot Fincorp has also come up with a debt offering.
They come with an interest rate of 11.75% per year, and have a tenure of 2 years.
Krish and Mithlesh left a comment on the IFCI post about Lakshmi Vilas Bank offering an interest rate of 10.50% for 1 year – 2 year deposit, and as far as I know this is the highest any bank is offering right now. So, investing in Muthoot's debenture gives you that much extra yield (for the extra risk of course).
The debentures are secured debentures, and the issue opened on 30th May 2011, and will close on 29th June 2011.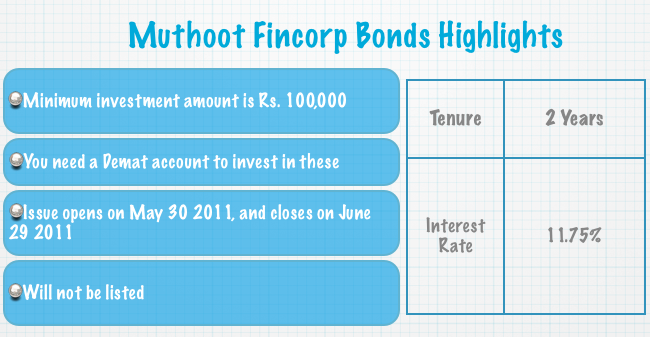 The minimum investment required in the Muthoot Fincorp Debentures is Rs. 1,00,000 and unlike the IFCI bonds they're not going to list on a stock exchange, so you must shell out at least Rs. 1 lac if you want to get in on these bonds.
They don't have any tax benefits, and will only be issued in Dematerialized form, so you need a Demat account to invest in these.
How does it compare to the IFCI issue?
Since the IFCI issue is also open now, the natural question is how the Muthoot bond issue compares with the IFCI one.
To me, the benefit of the IFCI issue is that you get to lock down to a high interest rate for a reasonably high duration. This is unique to the issue, as banks these days allow you to get a good interest rate for a year or two, but as the duration increases the rate of interest decreases. This probably indicates that banks think that rates will be lower in the years to come, and in such an environment bond issues like SBI and IFCI allow you to lock on to a high interest rate for longer durations. The fact that they're listed mean that you can sell them off if you need money before the maturity.
The Muthoot bond has a maturity of only two years, so it doesn't have these benefits. It won't list either, so someone who wants to buy the bond should primarily be convinced that the additional 1.25% or so is worth the additional risk.
These are secured bonds which means that the loan is backed by real assets, but I don't know of the details about what assets are used to back the loan, how are they valued etc. For whatever it's worth the issue is rated high by CRISIL so you can probably take that into account in your decision making as to what the additional risk is worth.
In my mind, this additional 1.25% is definitely not worth exposing a large part of your savings, and I personally would never invest more than 5% or so of my savings in this, if even that.