As far as I know – India has never had a trade surplus, which means that it has never exported more than it has imported, and I got curious to see what comprises of the exports of the many East Asian countries that have consistently run trade surpluses for years.
But in order to make any comparison, you need to know what India's exports constitute of first, and I wasn't sure of what the numbers looked like, so I went to the RBI website to look at some data.
RBI has the latest provisional foreign trade data for the 2011 April – September six month period, which shows that India's exports were $160 billion in that time period. It is important to note that this includes only merchandise exports, and doesn't include Services exports which are also a big foreign exchange earner for India.
I couldn't locate the six month number that included Services, and had to fall back upon the first quarter April – June 2011 – 12 Balance of Payment data to get the proportion between goods and services.
This data shows that the goods exported were worth $80.58 billion, and services exported were worth $30.95 billion.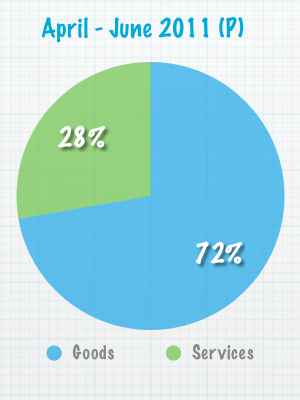 Now, that we see what the split between the goods and services look like, let's take the smaller piece first, and see what contributes to the Services.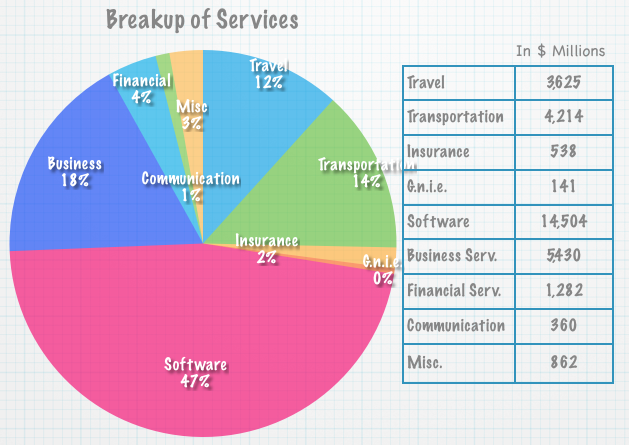 As expected, software exports dominate services and a large part of the services exports are what we commonly refer to as BPO and IT Enabled Services.
Now, let's take a look at merchandising, which is the bigger chunk of the exports. Here is a chart that breaks out merchandise.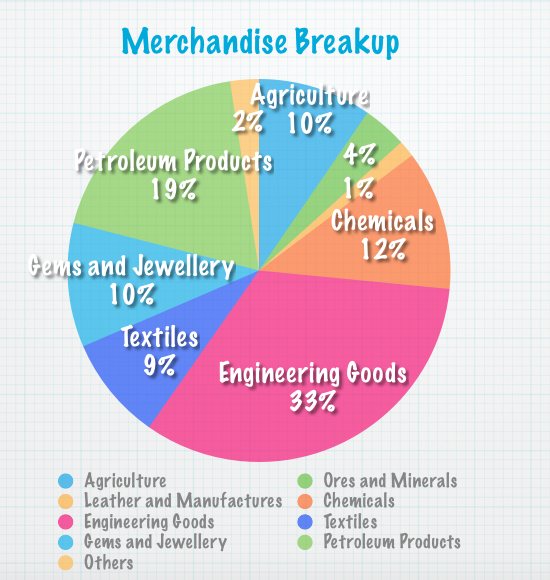 To make this chart easily readable – I didn't label some smaller categories – the 4% there is Ores and Minerals, 2% is Others and 1% is Leather and Manufacturers.
The biggest category of exports is engineering exports which must be the kind of thing that a L&T, BHEL or Tata Motors exports, and petroleum products is the second largest exports which is what Reliance Industries exports which also happens to the biggest exporter out of India.
I don't think I would have been able to guess any of these numbers correctly if I hadn't looked at the RBI data first, and I'd like to see data for a full year to see whether this quarter represents the whole year well or if anything here is affected by seasonality of some sort.
However, by and large it looks like for all the attention that services gets – exports of engineering goods and refined petroleum products may just hold the key to run an export surplus.