This post is written by Shiv Kukreja, who is a Certified Financial Planner and runs a financial planning firm, Ojas Capital in Delhi/NCR. He can be reached at skukreja@investitude.co.in
Finalisation of Basis of Allotment – On or about November 14, 2017
Initiation of Refunds – On or about November 15, 2017
Credit of equity shares to investors' demat accounts – On or about November 16, 2017
Commencement of Trading on the NSE/BSE – On or about November 17, 2017
Peer Comparison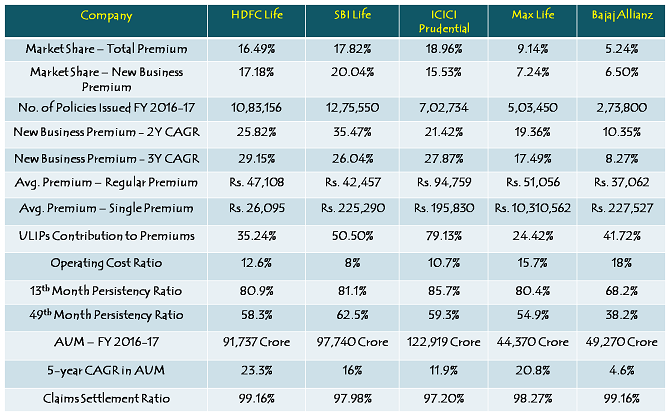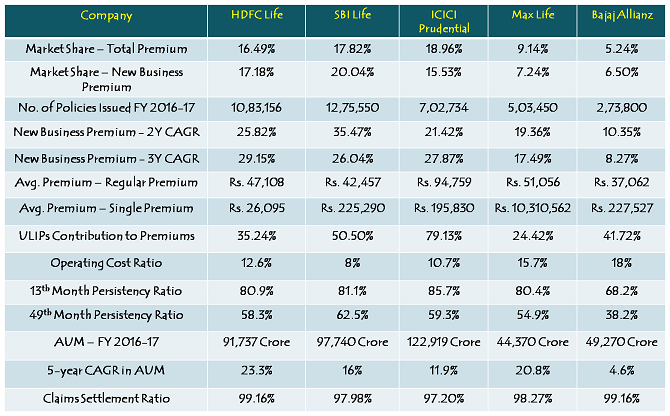 Financials of HDFC Standard Life Insurance Company Limited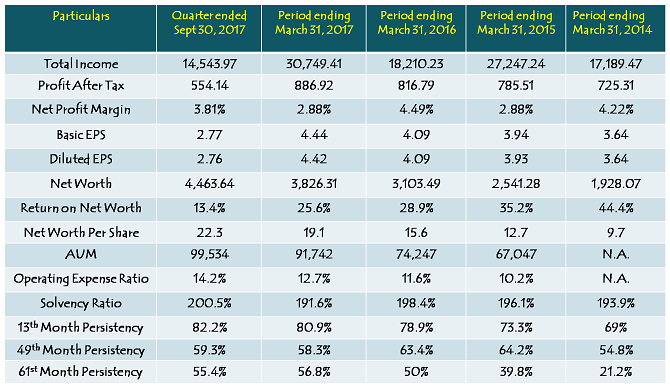 (Note: Figures are in Rs. Crore, except per share data & percentage figures)
As far as insurance business is concerned, HDFC has never been an aggressive player and probably that is why it is not the market leader. With HDFC Life, there are certain things which are positive and there are certain things in which it lags other players in the industry. It recorded highest growth in AUM among top five private players listed in the table above in the last 5-year period. Also, the company reported the highest claim settlement ratio among these players at 99.16%. However, as far as operating cost and persistency ratios are concerned, it lags both its listed peers, SBI Life and ICICI Prudential. The company has operating cost ratio of 12.6% as compared to SBI Life's 8% and ICICI Pru's 10.7%. But, Max Life has it at 15.7% and Bajaj Allianz even higher at 18%.
During FY 2016-17, HDFC Life reported total income of Rs. 30,554 crore as against Rs. 18,210.23 crore in FY 2015-16, profit after tax (PAT) of Rs. 886.92 crore vs. 816.79 crore and diluted EPS of Rs. 4.42 vs. Rs. 4.09. During the half year ended September 30, 2017, the company managed to generate total income of Rs. 14,415 crore, PAT of Rs. 554 crore and diluted EPS of Rs. 2.76. As on September 30, 2017, the company has a net worth of Rs. 4,464 crore and book value of Rs. 22.3 per share. At Rs. 290 a share, the company will be valued at a PE of 65.61 times based on its FY 2016-17 earnings, 52.54 times its annualised EPS of Rs. 5.52 for FY 2017-18 and 13 times its latest book value. To me, these are again stretched valuations by any standards.
As per the latest report issued by Milliman Advisors LLP, HDFC Life has an embedded value of Rs. 14,011 crore as on September 30, 2017. At Rs. 290 a share, the company will have a market capitalisation of Rs. 57,994 crore, and will be valued at 4.14 times its embedded value. As compared to HDFC Life, ICICI Pru and SBI Life are currently valued at 3.25 times and 3.63 times their embedded values respectively. So, as far as valuation based on embedded value is concerned, HDFC Life is seeking a premium over SBI Life and ICICI Pru.
These are not cheap valuations and therefore I think leave nothing great for the investors to make on the listing day. However, it is the HDFC brand which is going to support these high valuations and therefore I think it should list within a close price band of +/- 5%. This IPO is for the long term investors and therefore I think it should move in tandem with other HDFC group companies. Only investors with a long term view should apply and others should avoid this IPO.