The first thing that struck me about the Amazon gift card was the ability to customize it. This is nothing unique to Amazon, and a lot of companies like Best Buy and Target offer this, but it is a nice little feature to have.
I say that because gift cards are not as personal as a real gift, so it's nice to see that you can customize the Amazon gift card, and make it slightly more personal.
You can send a personalized e-card, which can include a picture, song and message with your gift card and that makes it even more personal.
Amazon Gift Card Delivery Options
Amazon offers a lot of choice in the way you can get a gift card. You can choose one of the following options.
Mail a gift card: You can buy a gift card, and have it mailed to your friend or family member. This may take up to seven days, and shipping is free. The disadvantage of having a gift card mailed is that physical gift cards can't be customized, and they just have a single design. This may mean the world to some people, while make no difference to others.
Email a gift card: If you don't want to wait out the shipping period, — you can get the gift card emailed instead.
Print a gift card: If you want to present the card yourself, but can't wait for it to be delivered, you can print it as well. Buy it online, and print it out to deliver it yourself, without having to wait the shipping period.
Amazon Gift Card Denominations
Amazon is pretty flexible with its gift card denominations. You can buy an Amazon gift card with any value between $5 and $5000. The only gift cards that are pre-denominated are the physical gift cards which need to be shipped in 3 – 5 business days. Otherwise, even the physical gift cards that are mailed to you do not have a predetermined denomination, and you can select the value of your gift card.
Customizing Amazon Gift Cards
Amazon has a lot of pictures categorized for occasions that can be used in your gift cards. For example, — you can use this cute little picture of a stork on your gift card, if you want to wish someone on the birth of their baby girl. There are several other pictures like this, which can give a personal touch to your gift card.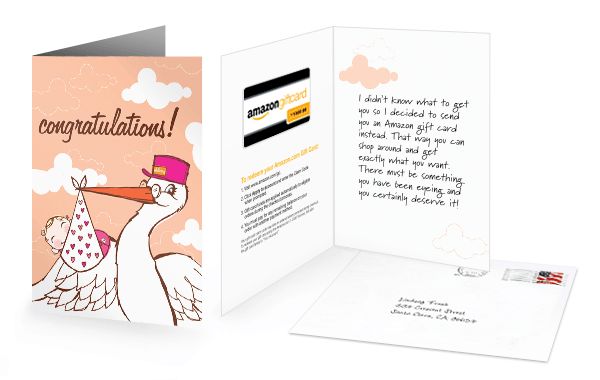 There is Kindle Gift card too, but all it does is have a picture of the Kindle on it. I am not sure who will find this useful (apart from Amazon itself). If you wanted to gift someone a Kindle, you'd buy that instead of the card.
How do I use my Amazon Gift Card?
Amazon Gift Card can be used at Amazon and Endless.com.
You can use your gift card in two ways.
If you have the gift card, but are not sure what to buy then login to your account, and click on "Your Account" on the top right corner.
On the next page look for the "Payment Section" and click on – "Apply a Gift Certificate / Card to Your Account"
On the next page, enter your card number, and click on "Redeem Now".
When you buy something after this, the balance will be deducted from your gift card first, and only if it doesn't cover the entire price, will your credit card be debited.
The second way of using the Amazon Gift Card is to enter the promotional code, when you are placing the order through the shopping cart or using – "Buy with 1 click". The amount will be deducted from your gift card, and if it doesn't cover the entire purchase price, — your credit card be debited.
Here is a page from Amazon that has more details on this process.
Amazon says that once you enter the code on their website, they store it for you, and you don't need to enter it subsequently. I haven't tried this, but I'd expect that if money is left on my gift card, it will be deducted first before Amazon debits my credit card. Only when my gift card is exhausted, will my credit card be touched.
Can I use the Amazon Gift Card to buy anything?
No.
For starters, you can't use the gift card to buy another gift card. Sometimes Amazon promotes items by bundling them up with a gift card, and offering a discount of sorts. You can't use your gift card to buy such items as well.
Some third party sellers don't accept it, and there are certain other exceptions. I couldn't find a list of the exceptions on Amazon's website, just the fact that they do exist. So, your best bet would be to try out the gift card on everything and see if it works. If anyone knows a better way, please let me know, and I'll update the post accordingly.
Conclusion
Personally, I try to buy gifts instead of gift cards, because they carry a lot more emotion. I'd use it if I knew someone who shops a lot from Amazon, but couldn't think of a good gift for them. The card itself is convenient to buy and Amazon's wide range of products mean that it won't be too hard to use either.