A few days ago I posted the premiums charged by different term insurance companies, and as a follow up to that post I shared the claim settlement data of some insurers last week.
Today I'm going to share the claim settlement ratio of all 23 life insurance companies in India for the December 2010 quarter. Rejections are simply claims that the insurance company has refused to pay, and lower the rejection – better it is for you.
This is very interesting data, and the one thing that jumps out at you is the low rejections by LIC.
Here is the first chart which shows the percentage of claims rejected by all the insurance companies for the December 2010 quarter. (Exceptions in time period are noted in the last table which has the raw data.)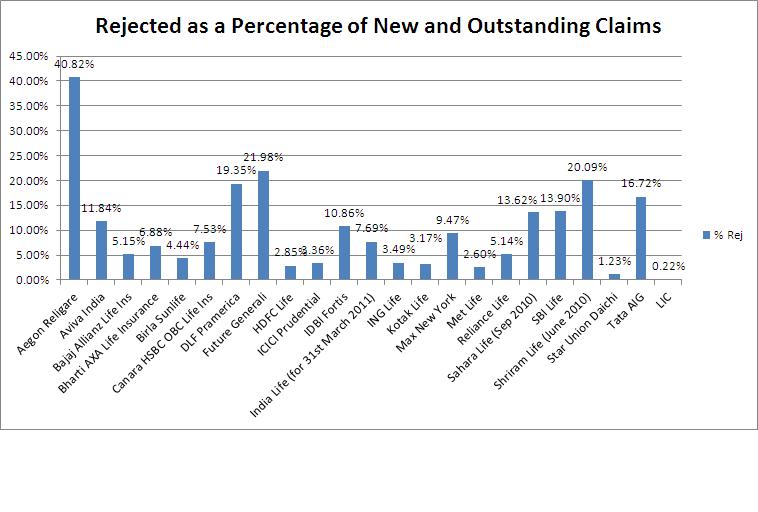 (click for larger image)
Now, when I looked at this two questions came to my mind:
1. How much difference does the relative volume make to these numbers?
2. Are these numbers skewed because of the 2 year rule?
Let's think about the question of relative volume first. The new plus outstanding claims of Religare was 47 for that period, so even if they rejected 2 claims that would be a rejection rate of close to 5%; that they rejected 20 doesn't exactly inspire confidence, but you can easily see why this number can't be compared with LIC which has about 2.3 lac policies for that period.
The 2 year rule is that insurance companies can't reject policies that are older than 2 years unless they can prove fraud. Loney – who is easily the most prolific commenter here has dug up the relevant act as well, and here is how it quotes:
Section 45 of Insurance Act, 1938 states: In accordance with Section 45 of Insurance Act, 1938, no policy of life insurance shall, after the expiry of two years from the date on which it was effected, be called in question by an insurer on the ground that a statement made in the proposal of insurance or any report of a medical officer, or a referee, or a friend of the insured, or in any other document leading to the
issue of the policy, was inaccurate or false, unless the insurer shows that such statements was on material factor or suppressed facts which it was material to disclose and that it was fraudulently made by the policyholder and that the policyholder knew at the time of making that the statement was false or that it suppressed facts which it was material to disclose.
So, are these rejections influenced by the fact that some insurers have been around for much longer, Â and most of their claims are from policies that are older than 2 years.
So, let's look at the data only for rejected claims that are less than 2 years old across life insurers.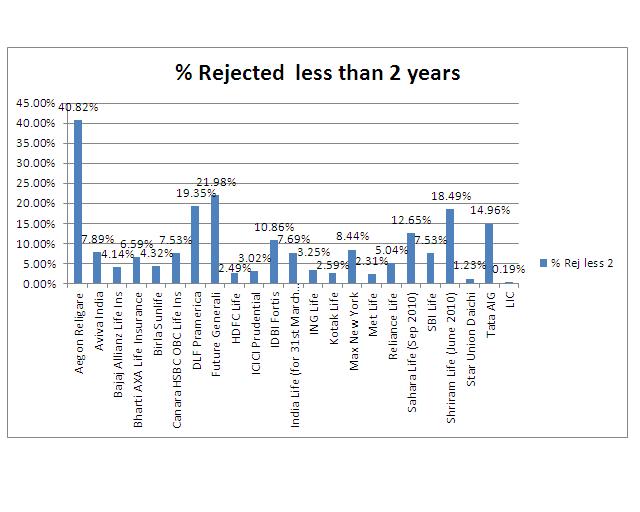 The numbers don't seem to change much, and finally let's take a look at the ratio of claim rejections between claims that are more than 2 years old and less than 2 years old.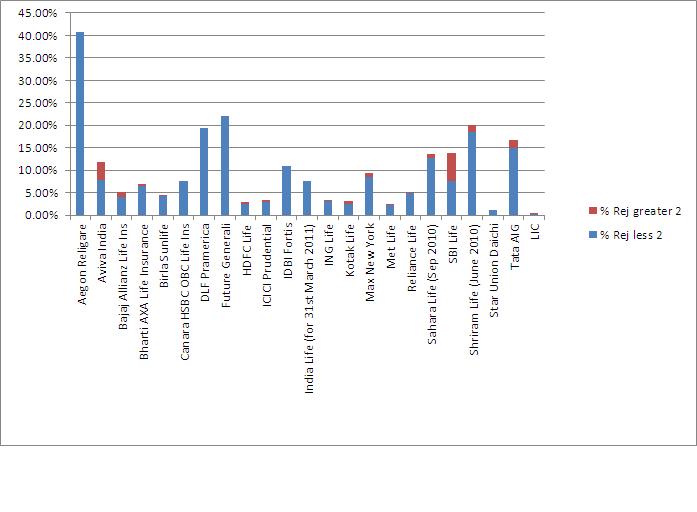 As expected, the claims that are less than 2 years old are rejected more often than claims that are older than 2 years, and obviously that will weigh on some of the newer insurers.
However, no matter what way I look at it LIC's low claim rejections jump out at me. That they are expensive when compared with others makes the choice of a term plan difficult, but this is certainly something worth keeping in mind – especially for people who smoke socially or have minor health problems that can later become a cause for denial of your claim if not declared properly.
I'm enclosing the raw data in this table below, so you can use it if you want, and the sources are the same as mentioned in my earlier post, so I'm not pasting those ugly links again.
| | | | | | | | | | | | |
| --- | --- | --- | --- | --- | --- | --- | --- | --- | --- | --- | --- |
| S.No. | Insurer | Claims O/S | New Claims | Claim settled | Claims rej | Less 2 y | Greater 2 y | % Rej | % Rej less 2 | % Rej greater 2 | % Settled |
| 1 | Aegon Religare | 22 | 27 | 13 | 20 | 20 | 0 | 40.82% | 40.82% | 0.00% | 26.53% |
| 2 | Aviva India | 0 | 532 | 469 | 63 | 42 | 21 | 11.84% | 7.89% | 3.95% | 88.16% |
| 3 | Bajaj Allianz Life Ins | 2,548 | 6,485 | 6,268 | 465 | 374 | 91 | 5.15% | 4.14% | 1.01% | 69.39% |
| 4 | Bharti AXA Life Insurance | 127 | 222 | 168 | 24 | 23 | 1 | 6.88% | 6.59% | 0.29% | 48.14% |
| 5 | Birla Sunlife | 173 | 3,113 | 3,029 | 146 | 142 | 4 | 4.44% | 4.32% | 0.12% | 92.18% |
| 6 | Canara HSBC OBC Life Ins | 74 | 72 | 50 | 11 | 11 | 0 | 7.53% | 7.53% | 0.00% | 34.25% |
| 7 | DLF Pramerica | 14 | 17 | 6 | 6 | 6 | 0 | 19.35% | 19.35% | 0.00% | 19.35% |
| 8 | Future Generali | 2 | 230 | 162 | 51 | 51 | 0 | 21.98% | 21.98% | 0.00% | 69.83% |
| 9 | HDFC Life | 208 | 1,196 | 1,139 | 40 | 35 | 5 | 2.85% | 2.49% | 0.36% | 81.13% |
| 10 | ICICI Prudential (Full year) | 901 | 15,605 | 14,862 | 554 | 498 | 56 | 3.36% | 3.02% | 0.34% | 90.04% |
| 11 | IDBI Fortis | 70 | 105 | 75 | 19 | 19 | 0 | 10.86% | 10.86% | 0.00% | 42.86% |
| 12 | India Life (for 31st March 2011) | 0 | 13 | 7 | 1 | 1 | 0 | 7.69% | 7.69% | 0.00% | 53.85% |
| 13 | ING Life | 112 | 1,550 | 1,462 | 58 | 54 | 4 | 3.49% | 3.25% | 0.24% | 87.97% |
| 14 | Kotak Life | 411 | 631 | 627 | 33 | 27 | 6 | 3.17% | 2.59% | 0.58% | 60.17% |
| 15 | Max New York | 707 | 1913 | 1669 | 248 | 221 | 27 | 9.47% | 8.44% | 1.03% | 63.70% |
| 16 | Met Life | 206 | 3562 | 3150 | 98 | 87 | 11 | 2.60% | 2.31% | 0.29% | 83.60% |
| 17 | Reliance Life | 957 | 4,025 | 3,272 | 256 | 251 | 5 | 5.14% | 5.04% | 0.10% | 65.68% |
| 18 | Sahara Life (Sep 2010) | 281 | 233 | 156 | 70 | 65 | 5 | 13.62% | 12.65% | 0.97% | 30.35% |
| 19 | SBI Life | 685 | 5,745 | 4,622 | 894 | 484 | 410 | 13.90% | 7.53% | 6.38% | 71.88% |
| 20 | Shriram Life (June 2010) | 475 | 212 | 197 | 138 | 127 | 11 | 20.09% | 18.49% | 1.60% | 28.68% |
| 21 | Star Union Daichi | 22 | 304 | 218 | 4 | 4 | 0 | 1.23% | 1.23% | 0.00% | 66.87% |
| 22 | Tata AIG | 26 | 883 | 702 | 152 | 136 | 16 | 16.72% | 14.96% | 1.76% | 77.23% |
| 23 | LIC | 53,765 | 181,165 | 182,211 | 506 | 443 | 63 | 0.22% | 0.19% | 0.03% | 77.56% |