A couple of days ago @gkjohn Tweeted this out:
Has there ever been a parallel in consumer electronic history to Apple's growth in the last decade?
My first reaction to this question was probably Sony. When I thought about consumer electronics, the most successful company I could think of was Sony, and I thought they might have done something close to what Apple had done in the last decade.
Now, I'm not sure what GK John had in mind, but I was narrowly looking at this from the point of view of stock returns. Google Finance tells us that Apple returned an awesome 3,776% in the last decade!
Has Sony ever done this?
A quick search in Google Finance showed me that in no decade did Sony perform such a feat.
That made me think if anyone else has ever done this, and I started looking for the best performing stocks in the last decade. For this exercise I stuck to US stocks just because Apple is an American company.
A quick search brought up this Bespoke research which shows the best performing stock for the decade ending 2009.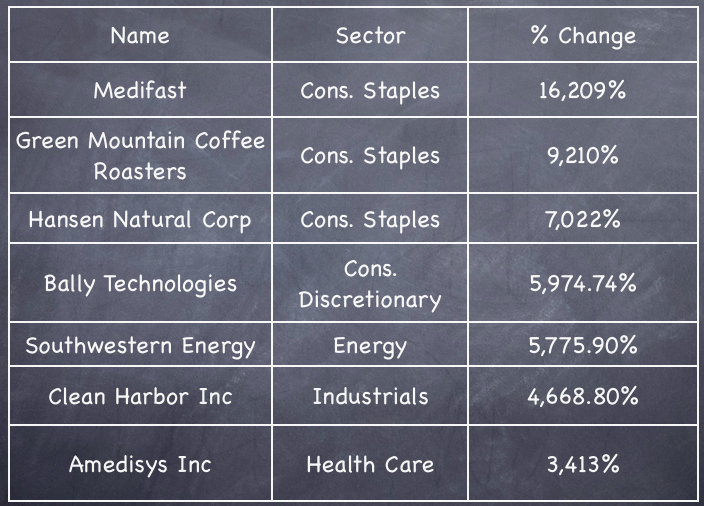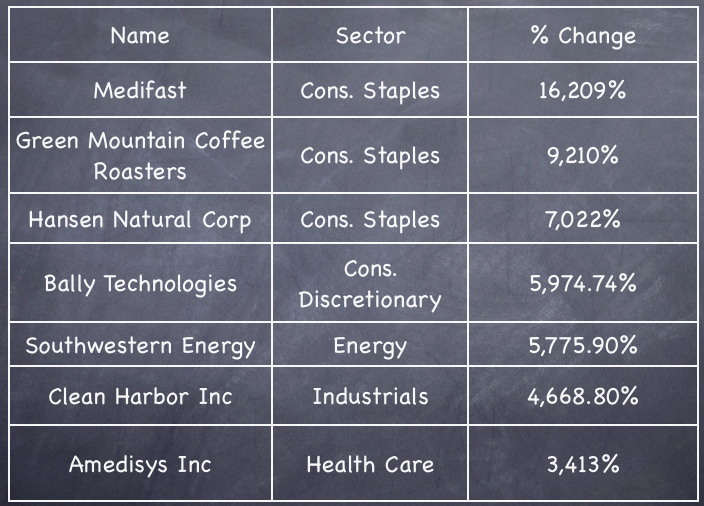 These companies are not as big as Apple, but some of them have market capitalization of over a billion dollars, so they aren't exactly small either.
Again, there is no question that they don't have anywhere near as powerful a brand as Apple, but if you were just looking for stock returns – there were other companies that could have done it for you.
Last, I wondered if Microsoft has ever had such a great decade in its life? It's been going downhill for a few years, but surely in its history it must have done something spectacular like this?
In the last 10 years Microsoft has gone down 21%, but from Jan 05 1990 to Mar 31 2000 it rose a staggering 8,883%!
Now, isn't that something?
Now, question for you – Is Microsoft most like Apple? And is this a good lead to write a post about the Recency Effect?