SBI Gold Fund is a fund of funds that will have gold as its underlying asset, and will primarily invest in its own gold ETF – SBI GETS.
It was just a matter of time that SBI came out with a fund of fund that invests in gold since gold has been on fire lately to such an extent that the world's biggest gold ETF – SPDR Gold Shares owns more than 1,200 tons of gold! That's not a typo – they really do own 1,284 tons of gold! 
In my last post about gold ETF performance in India – I discussed how 4 new gold ETFs have been launched in the last year, and it's only natural for players to jump in this market since that's where the demand is.
Getting back to the SBI Gold Fund – this is a fund of funds targeting gold. In this case it means it will own another fund which then owns the physical gold. The other fund in this case is the ETF – SBI GETS.
Now, this is really important because I see a lot of people who say gold ETFs don't really own gold and they are fraud, or they say that they don't understand the way gold ETFs work and it's not safe and then they go ahead and buy a gold mutual fund which in turn will buy gold ETFs!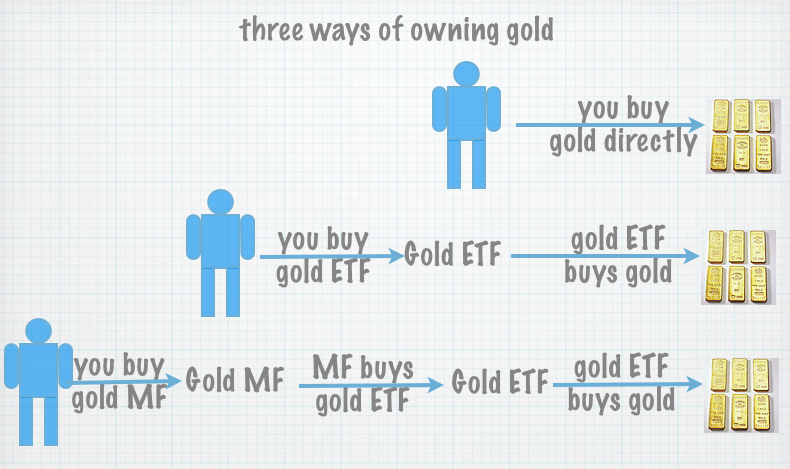 If you don't like gold ETFs – you have no business buying a gold mutual fund that then owns a gold ETF! It makes absolutely no sense at all.
Please understand that there is no gold mutual fund in India that owns physical gold directly. There is only one type of gold mutual fund in India, and those are gold fund of funds. This means that they invest in other funds.
Those other funds are of two types – gold ETFs or mutual funds that own shares in international gold mining companies.
SBI Gold Fund is the type of fund that will  own units of the SBI Gold ETF called SBI GETS.
So, you must understand that when you are buying SBI Gold Fund – you are really owning units of SBI GETS.
Now, let's talk about some other aspects related to the SBI gold fund.
Expenses of the SBI Gold Fund
Every mutual fund or ETF incurs some expenses in running its fund, and these expenses are recovered from the unit holders by reducing the NAV to the extent of the expenses. These expenses are charged as a percentage of the assets and in case of the SBI Gold Fund – their document says that the expenses will not exceed 1.5% of assets including the charges of the SBI GETS ETF. Â Practically, I don't know how much they are going to charge, but due to the competitive nature of the gold ETF market – fees have remained low and about the same for every fund.
Tracking Error
Another thing about fund of funds is that they are not able to put 100% of the money in the underlying asset because they need some cash or liquid investments to take care of any unit redemption that happens. These are usually in low yielding instruments, and I would expect the returns on the SBI Gold Fund to be slightly lesser than the returns on SBI GETS due to this reason.
Exit Load
Since this is a mutual fund, they have the luxury of charging you a 1% exit load if you exit out before a year. If you just bought SBI GETS directly, you wouldn't have to bear this load if you exited within a year.
Stock Commissions
There will be no brokerage or commissions since this is a gold mutual fund, however if you do buy  SBI GETS directly – you will have to pay commissions since that is traded like a share. If you are buying in smaller quantities then that can make a lot of difference in your cost, and that's one thing to keep in mind.
Demat and SIP
You don't need a Demat account to own the SBI Gold Fund whereas you do need a Demat account to buy shares or units of SBI GETS or any other gold ETF.
Since this is a mutual fund – you can do a SIP as well.
NFO Dates
The SBI Gold Fund NFO is going to start on the 19th August 2011, and closes on September 5th 2011.
This should really not make any difference as you don't gain anything by buying a mutual fund during its NFO period. The 10 rupee NAV is the most ridiculous myth when it comes to mutual funds, and if you don't know why I am saying that read my earlier post about why mutual fund NAV doesn't impact performance. 
Conclusion
Because of what I said earlier about expenses and tracking error – I would expect the performance of the SBI Gold Fund to lag the performance of SBI GETS as long as gold prices are rising.
Personally, I don't see much merit in buying a fund of funds when you can buy the underlying fund directly.
People who want to buy small amounts like say less than a thousand rupees and don't have a Demat account may be an exception to what I'm saying, but other than that I would think that investors are better off buying a gold ETF instead.
Now, this doesn't mean that I'm recommending gold, and to be frank my aversion to it has only increased seeing the rise in the last few days, but what I mean is if you were considering buying a gold fund of fund – give a serious thought to buying a gold ETF instead.
Image Credit: Gold bar image