I have already written about some of the key features of the budget, and now let's take a look at how the government gets its revenues. There are three sources from where the government gets money. The first two are revenue sources, and the last one is borrowings and capital asset sales.
These are listed here:
1. Revenue Receipts – Tax Revenue: This is the tax that the government collects in the form of corporation tax, personal income tax, customs, excise etc.
2. Non Tax Revenue: These are things like interests on bonds held, dividends from PSUs, and grants. They are revenue sources meaning they don't have to be repaid and are smaller than tax revenues.
3. Capital Receipts:Â These are borrowings of the government like the market loans, short term borrowings, external commercial receipts etc.
Now, some charts and the source for the data is the budget website.
Breakup of Government Revenues
First, let's take a look at how these three sources contribute to the government's kitty.
| Head | In Crore of Rupees |
| --- | --- |
| Tax Revenue | 8,84,078.32 |
| Non Tax Revenue | 1,72,252.38 |
| Capital Receipts | 6,08,966.62 |
| Grand Total | 16,65,297.32 |
Here is a pie chart that shows the relative contribution of these three sources.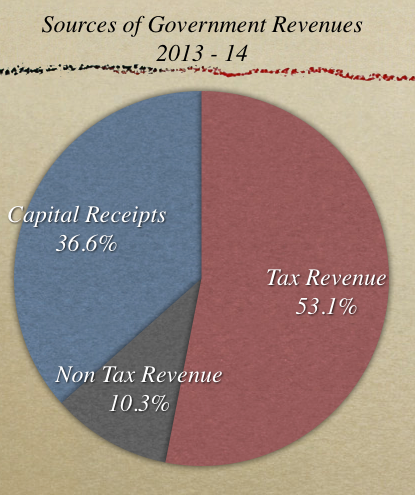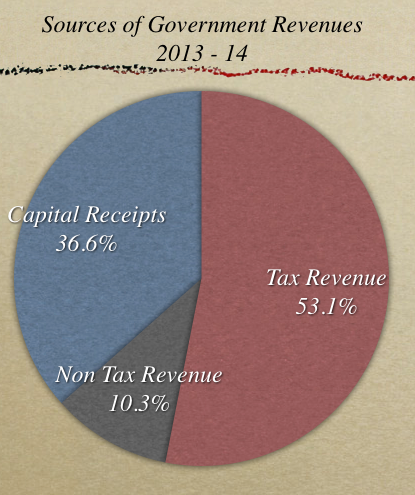 From the chart above you can see that tax revenues form the biggest chunk of government receipts. What's also interesting is that Capital Receipts form 37% of the receipts. This is quite high because most of this is in the form of borrowings, and if this was the budget of a family they would be in trouble since they have to finance 37% of their expenses by borrowing money.
What's amazing about this break up is that it is identical to the budget last year. Click here to look at that chart. 
Breakup of Tax Revenues
Tax revenues are the biggest sources of government funds, and now let's take a look at what constitutes our tax revenues.
| Head | In Crore of Rupees |
| --- | --- |
| Corporation Tax | Â 4,19,520.00 |
| Income Tax | Â 2,47,639.00 |
| Wealth Tax | Â 950.00 |
| Customs | Â 1,87,308.00 |
| Excise Duties | Â 1,97,553.95 |
| Service Tax | Â 1,80,141.00 |
| Taxes on UT | Â 2,758.13 |
| Grand Total | Â 12,35,870.08 |
The grand total here is a lot bigger than the tax revenue grand total in the first table because the first table has the tax revenues reduced by the state's share of it.
Here is a chart that shows the percentage contribution of these various sources, and for people not familiar with this breakup – the biggest surprise for them will be that Corporate Taxes contribute a lot more to the kitty than the personal income tax. If you compare this with last year's number you will see that the the contribution of income tax has gone up 2 points in the overall pie.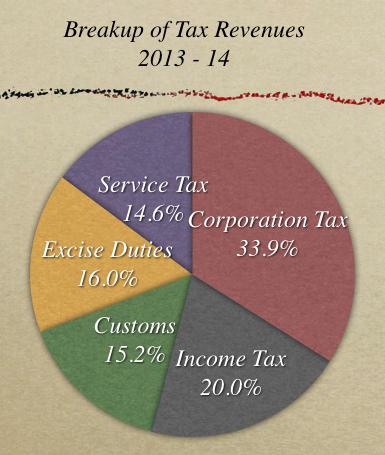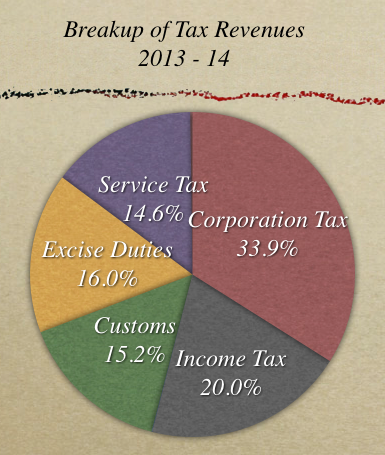 Non Tax Revenues
Non tax revenues are not nearly as big as tax revenues and a lot of them come from PSU dividends and then some come from petroleum royalties that are covered in the Economic Services section below.
Here is the break up of non tax revenues.
| Head | In Crore of Rupees |
| --- | --- |
| Interest Receipts | 17,764.39 |
| Dividends and Profits | 73,866.36 |
| Fiscal Services | 87.82 |
| General Services | 12,254.71 |
| Social Services | 2,684.42 |
| Economic Services | 62,972.64 |
| Grants | 1456.13 |
| Non Tax Rev of UT | 1165.91 |
| Grand Total | 172252.38 |
Here is how the various heads look like in a pie chart.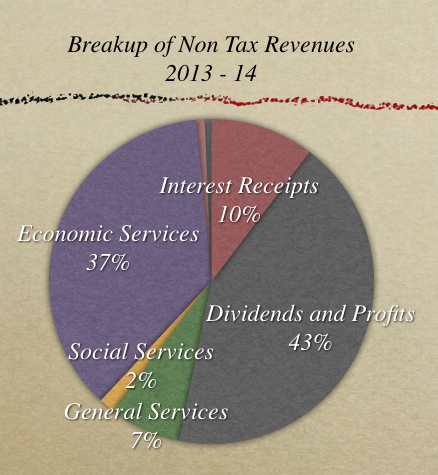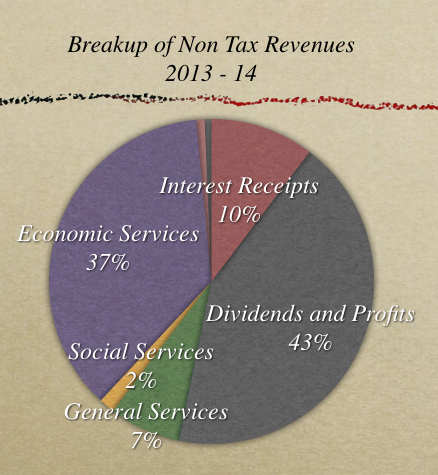 The one thing that I always think about when I look at this number is the fact that India is slowly divesting PSUs and eventually these dividends and profits are going to go down. The other related thing is that the divestment money is being used to plug the gap between revenues and expenses, but divestment will not be a continual source of income like taxes.
Now, let's move to the third source of income which is capital receipts.
Capital Receipts
As you can see the government has to rely a lot on Capital Receipts, and Capital Receipts are mainly just borrowings. The other big number there is disinvestments which comes under miscellaneous capital receipts and is Rs. 40,000 crores for this fiscal.
Here is how they break out.
| Head | In Crore of Rupees |
| --- | --- |
| Recoveries of Loans & Advances | 10,654.00 |
| Misc. Capital Receipts | 55,814.00 |
| Net Borrowings | 503,844.46 |
| Net Securities against Small Savings | 5,797.52 |
| State PF Net | 10,000 |
| Other Receipts | 12,296.54 |
| External Debt | 10,560.10 |
| Net Market Stabilisation Scheme | 20,000.00 |
| Grand Total | 628,966.62 |
You will notice that this is Rs. 20,000 crores more than the capital receipts shown in the first table, and so far I haven't been able to find out the reason for the difference. The number in the first table equals allows the total to add to the expenses and also the Reconciliation Statement on the budget website lists down the capital receipts as 608,966.62 crores so that number is the right Net Capital Receipts but I don't know from which head the 20,000 crores has to be removed in the latter table.
Here is a pie chart of the above numbers.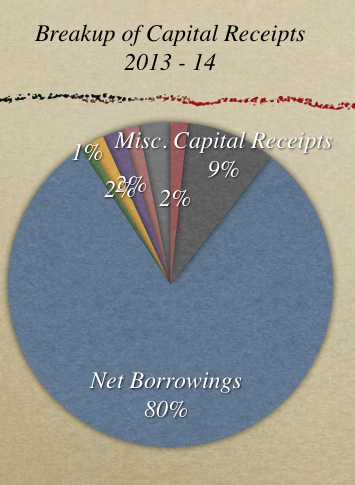 Conclusion
We have been talking about deficit for some time here, and if you look at these numbers above – 36.6% of the total revenues are capital receipts, and 80% of those capital receipts are borrowings. So, effectively we borrow 29.3% of what we have to spend. That's just too high, and has to be brought under control. When you look at it from this context, widening the tax base and better compliance is inevitable if you have to get this number under control.