This post is written by Shiv Kukreja, who is a Certified Financial Planner and runs a financial planning firm, Ojas Capital in Delhi/NCR. He can be reached at skukreja@investitude.co.in
The government has just announced its decision to sell its 10% stake in Indian Oil Corporation (IOC) through Offer for Sale (OFS) route. OFS will take place on the stock exchanges on Monday i.e. August 24th and will have approximately 24.28 crore shares for sale to the investors.
Here is the link to the Notice of Offer for Sale issued by the Ministry of Petroleum & Natural Gas to the stock exchanges. 20% of the shares on sale will be reserved for the retail investors and they will get a 5% discount as well on the allotment price or the 'Cut-Off' price, whichever is higher.
IOC Offer for Sale Details
Issue Type: Offer for Sale (OFS)

OFS Opens & Closes: Monday, August 24, 2015

OFS Bidding Time: 9:15 a.m. to 3:30 p.m.

Floor Price: Rs. 387 a share

No. of Shares Offered: 24,27,95,248 Equity Shares

Lot Size: 1 Equity Share

Minimum Issue Size: Rs. 9,302 Crore

Proposed Listing: NSE and BSE
Floor Price – The government has fixed Rs. 387 as the floor price for each IOC share in the OFS. IOC's stock price fell by 0.72% on Friday to close at Rs. 394.85 on the National Stock Exchange (NSE). So, the floor price of Rs. 387 has been fixed at a discount of 1.99% to its market price, which would fetch a minimum of Rs. 9,302 crore to the government.
Shares on Sale – The government currently has 68.57% stake in IOC. After this OFS, the stake will come down to 58.57%. A total of 24,27,95,248 shares will be sold by the government in this OFS, out of which 20% shares i.e. 4,85,59,050 shares will be reserved for the retail investors investing up to Rs. 2 lakh.
20% of OFS & 5% Discount for the Retail Investors – Unlike Dredging OFS, in which the government was expecting a muted response from the retail investors and hence offered only 10% OFS shares to them, 20% of the shares offered in this OFS have been reserved for the retail investors. Again, the government will give a discount of 5% to the retail investors. This discount will be given to them on the price at which the retail investors successfully bid in the OFS or the cut-off price set by the government, whichever is higher.
Brokerage – Unlike IPOs, stock brokers levy brokerage charges on these OFS transactions. These charges are normally higher than the rate of brokerage investors pay on their routine transactions. So, if the allotment price is fixed at say Rs. 390, the retail investors will get it at Rs. 370.50 a share plus applicable brokerage charges and taxes thereon. So, the retail investors should consider these charges in their overall cost of acquisition.
Cut-Off Option – Made compulsory by SEBI recently and introduced with the PFC OFS, the 'CUT-OFF' price option will be there in this OFS as well. But, in the absence of an upper price cap, I think this option is of no use in increasing your chances of getting allotment. I think SEBI should introduce an upper price cap for the retail bidders in these OFS or some other innovative method of bidding should be worked upon.
Only a Single Day OFS – IOC OFS will remain open for a single day only and that too, during the trading hours of the stock exchanges i.e. between 9:15 a.m. and 3:30 p.m. If successful, you'll get the shares credited in your demat account by Tuesday.
Bidding will start on the stock exchanges at 9:15 a.m. on Monday and you can check the LIVE bidding status on the websites of the National Stock Exchange (NSE) and the Bombay Stock Exchange (BSE).
How does an OFS process work?
If you are investing in an OFS for the first time and want to know more about the process, here is the link to check the details about it. If you have any query regarding the process, please share it here, I'll respond to it as soon as possible.
How to invest?
You need to contact your broker to know how it is facilitating the bidding process. I think most of the broking firms must be providing the investment facility through their online platforms. If you don't have access to the online platform, you should contact the customer care department of your broker and get your bid placed through telephonic confirmation.
Fundamentals of IOC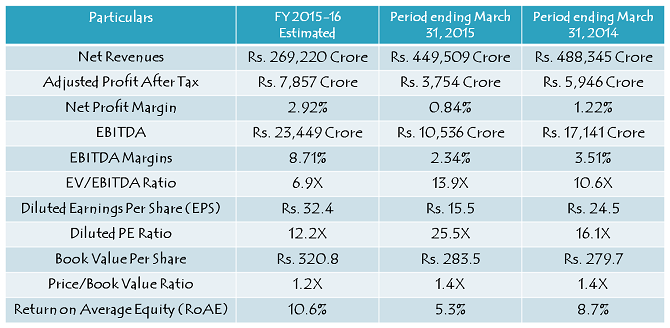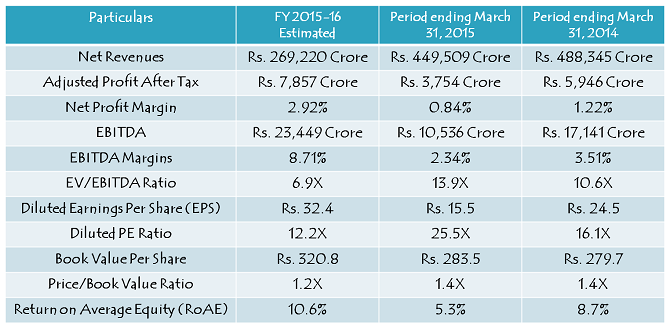 For the financial year ended March 31, 2015, IOC reported net revenues of Rs. 449,509 crore as against Rs. 488,345 crore for the year ended March 31, 2014. The company reported profit after tax (PAT) of Rs. 3,754 crore for the financial year ended March 31, 2015 as against Rs. 5,946 crore for the financial year ended March 31, 2014.
In the current financial year, the company is expected to see a turnaround in its financial performance due to falling crude prices, reduced subsidies and most importantly, flexibility in setting retail prices of petrol & diesel. The company is expected to report a very healthy EBITDA of Rs. 23,449 crore as against Rs. 10,536 crore it reported in the previous financial year.
At Rs. 394.45, the stock is currently trading at 12.2 times its estimated EPS of Rs. 32.4 for FY 2015-16 and 1.2 times its estimated book value of Rs. 320.8.
Should you invest in this OFS?
Firstly, I think this is one of the best times for the government to sell its stake in oil marketing companies (OMCs) like IOC, BPCL and HPCL. Global crude prices are down and down beyond almost all of our expectations. If crude prices stay below $60-65/barrel levels for a meaningful period of time and the government remains committed about keeping petrol/diesel prices market-driven and reducing subsidies beyond current levels, then I think IOC is attractively valued at these levels and could potentially reward its shareholders with 20-30% returns in the next 9-12 months time.
But, a sharp reversal in crude prices or unfavourable decision making with respect to the retail prices of diesel, petrol, LPG, kerosene or subsidy sharing could pose risks to its stock performance.
What is the Best Strategy to successfully get IOC shares allotted and also make some reasonable profits?
Firstly, you should analyse the fundamentals of the company. Based on your analysis, you should decide whether you want to bid for its shares or not. If you decide to go for it, then you should consider the fact that IOC OFS issue is relatively a bigger issue as compared to the earlier ones. I don't think it will get as bumper a response as REC or PFC or Dredging OFS got. So, the retail investors should not remain in a hurry in placing their bids at too high a price, like beyond Rs. 400 or above.
Best strategy is to wait till as late as possible to analyse the bids at various price points, IOC's stock price movement during the day and place your bids accordingly. If the retail quota does not get fully subscribed by 3 p.m. or so, then it is best to place your bids checking the 'Cut-Off' price option.
In case of a healthy subscription, I think bidding between Rs. 392 and Rs. 397 could be the best strategy for the keen bidders. But, let me be clear that it will not ensure IOC's stock price from falling below Rs. 380 in Tuesday's trading session, which could happen due to profit booking or the number of sellers outnumbering the number of buyers by a huge margin.
To be on a positive side, a genuinely good response to the OFS and some noticeable improvement in the market sentiment globally could push its price up in the days to come.