This post is written by Shiv Kukreja, who is a Certified Financial Planner and runs a financial planning firm, Ojas Capital in Delhi/NCR. He can be reached at skukreja@investitude.co.in
The government is doing all it could do to curb the demand as well as imports of physical gold, but the government is yet to understand the psychology of people living here in India. We love our country, but we do not leave any chance to spread litter on our roads, parks and all other places wherever we can. We want 'Azaadi' within India, despite having all the Azaadi to burn and destroy public and private properties and commit the most condemnable offences such as rapes, murders etc.
We are very patriotic, but we do not leave any chance to leave our country and spend a comfortable life outside India for the rest of our life cursing the Indian systems. We consider Indian culture to be the best, but we do not leave any chance to make fun of our Prime Ministers.
To cut it short, we need to understand that if any of our measures are not working in our favour to achieve any of our targets, we need to rework on our strategy to achieve it and that is what the government has not been able to do in case of its flagship gold scheme – Sovereign Gold Bond Scheme. Despite the gold investment giving negative returns in the past two years or so, the lure of buying gold in India is not going down and the government has failed to curb the demand of physical gold.
After two consecutive unsuccessful attempts, the government will be launching its third tranche of gold bonds from Tuesday, 8th of March. The scheme will remain open till March 14 and the bonds will be issued on March 29, 2016.
Here are some important features of this scheme:
Issue Price – The investors can invest in these bonds at Rs. 2,916 per gram of gold. The issue price this time is higher than the previous two issues. Issue price for the first tranche was fixed at Rs. 2,684 per gram of gold and that of the second tranche was Rs. 2,600 per gram of gold.
The government could raise only Rs. 246 crore from its first issue in November issuing bonds with around 916 kg of gold and Rs. 798 crore from the second issue in January issuing bonds with around 3,071 kg of gold.
Issue Price Methodology – The issue price has been fixed on the basis of simple average of closing price for gold of 999 purity of the previous week (February 29, 2016 to March 4, 2016) published by the India Bullion and Jewellers Association Ltd. (IBJA).
Coupon Rate @ 2.75% p.a. – Sovereign Gold Bonds offer two streams of returns – one in the form of regular interest income @ 2.75% per annum payable semi-annually and the other in the form of increase or decrease in the market price of gold.
Tenor of Investment – These bonds will be issued for a period of 8 years from the allotment date, which is March 29, 2016, with an exit option from the 5th year on the interest payment dates.
Premature Redemption – In case of premature redemption (after 5 years), investors can approach the concerned intermediary 30 days before the coupon payment date. Request for premature redemption can only be entertained if the investor approaches the concerned intermediary at least one day before the coupon payment date. Redemption proceeds will be credited to the customer's bank account.
Taxation – Budget 2016 has tried to make these bonds more attractive from taxation point of view. As per the Budget speech "It is proposed to provide that redemption by an individual of Sovereign Gold Bond issued by Reserve Bank of India under Sovereign Gold Bond Scheme, 2015 shall not be charged to capital gains tax. It is also proposed to provide that long terms capital gains arising to any person on transfer of Sovereign Gold Bond shall be eligible for indexation benefits".
So, as an individual, whenever you redeem these gold bonds after holding them for 5 years, you are not liable to pay any capital gain tax.
Minimum and Maximum Investment – Investors are required to buy a minimum of 2 units of these bonds i.e. 2 grams of gold or a minimum investment of Rs. 5,832. On the other hand, you can buy a maximum of 500 units of these bonds or 500 grams of gold, which works out to be Rs. 14,58,000.
NRI/QFI Investment Not Allowed – Non-Resident Indians (NRIs) and Qualified Foreign Investors (QFIs) are not eligible to invest in these bonds. Only Resident Indian Entities, including individuals, trusts, universities and charitable institutions are eligible to invest in these bonds.
Transferability – Though these bonds are tradable, but trading is allowed only once it is notified by the Reserve Bank of India (RBI). Bonds can be transferred also by execution of an Instrument of Transfer, in accordance with the provisions of the Government Securities Act.
Sovereign Gold Bonds vs. Gold ETF vs. Physical Gold – A Comparative Chart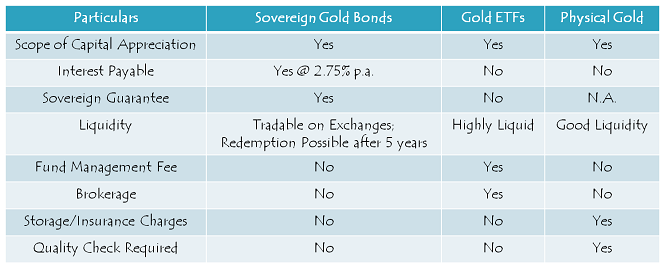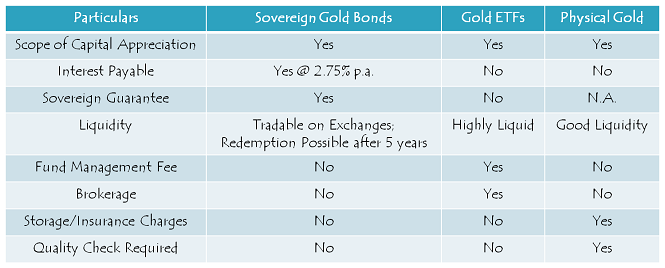 As you can check from the table above, almost all the points of comparison are in favour of these Sovereign Gold Bonds, except the liquidity thing. That too, I think is not a big issue as and when the RBI notifies these bonds to trade on the stock exchanges. So, if you are bullish about the gold prices rising from hereon and/or if your asset allocation permits you to invest in gold or gold derivatives, I think there cannot be any better option other than these Sovereign Gold Bonds. Personally, I think the government should first cut high import duties on gold to make them attractive for me from investment point of view.
Do you think these gold bonds make a good investment option for you? If 'Yes', please share why you think so. If 'No', please let us know why you think so. Also, in case you think I have missed anything in the post above, please let me know. I will incorporate that point in the article as soon as possible.