This post is written by Shiv Kukreja, who is a Certified Financial Planner and runs a financial planning firm, Ojas Capital in Delhi/NCR. He can be reached at skukreja@investitude.co.in
AU Small Finance Bank Limited is all set to enter the primary markets by launching its initial public offer (IPO) from today. It will be a sub Rs. 2,000 crore issue in the price band of Rs. 355-358. Existing shareholders will dilute their current shareholding in this IPO and no fresh shares will be issued during the offer period.
The issue represents 18.79% of the post issue paid-up share capital of the company and as always, will remain open for three days to close on June 30th.
Before we analyse it further and take a decision to invest in it or not, let us first check out some other details of this IPO:
Price Band – The company has fixed its price band to be between Rs. 355-358 per share and no discount is getting offered to the retail investors.
Size & Objective of the Issue – As this is an offer for sale by its existing shareholders, the company will not receive any proceeds from this issue. These selling shareholders include its founders Sanjay Agarwal, Jyoti Agarwal, Shakuntala Agarwal and Chiranji Lal Agarwal, Redwood Investment Ltd, International Finance Corporation (IFC), Ourea Holdings Limited, Kedaara Capital Alternate Investment Fund, Labh Investments and MYS Holdings. These shareholders will sell around 5.34 crore shares in this issue at Rs. 358 a share to raise Rs. 1,913 crore from the investors.
Retail Allocation – The company has reserved 10 lakhs shares for its employees. Post that allocation, 35% of the net issue size is reserved for the retail individual investors (RIIs), 15% is reserved for the non-institutional investors and the remaining 50% shares will be allocated to the qualified institutional buyers (QIBs).
No Discount for Retail Investors – The company has decided not to offer any discount to the retail investors.
Anchor Investors – The company today finalised allocation of approximately 1.57 crore shares to the anchor investors @ Rs. 358 per share for Rs. 563 crore. Some of these anchor investors include Nomura Singapore, Merrill Lynch Markets Singapore, Government of Singapore, Kuwait Investment Authority Fund 225, Nomura Funds Ireland India Equity Fund, HSBC Global Investment Fund – Indian Equity, Jupiter South Asia Investment Company – South Asia Access Fund, Amansa Holdings, Pacific Horizon Investment Trust, DB International (Asia), Eastbridge Capital Master Fund, Indus India Fund (Mauritius) and Steadview Capital Mauritius.
Bid Lot Size & Minimum Investment – Investors need to bid for a minimum of 41 shares and in multiples of 41 shares thereafter. So, a retail investor would be required to invest a minimum of Rs. 14,678 at the upper end of the price band and Rs. 14,555 at the lower end of the price band.
Maximum Investment – Rs. Individual investors investing up to Rs. 2 lakh are categorised as Retail Individual Investors (RIIs). As a retail investor, you can apply for a maximum of 13 lots of 41 shares @ Rs. 358 i.e. a maximum investment of Rs. 1,90,814. At Rs. 355 a share, your maximum investment would fall to Rs. 1,89,215.
Listing – The shares of the company will get listed on both the stock exchanges, National Stock Exchange (NSE), as well as Bombay Stock Exchange (BSE). The listing will happen within 6 working days after the issue gets closed on June 30. July 10th is the tentative date for its listing.
Here are some other important dates after the issue gets closed:
Finalisation of Basis of Allotment – On or about July 5, 2017
Initiation of Refunds – On or about July 6, 2017
Credit of equity shares to investors' demat accounts – On or about July 7, 2017
Commencement of Trading on the NSE/BSE – On or about July 10, 2017
Financials of AU Small Finance Bank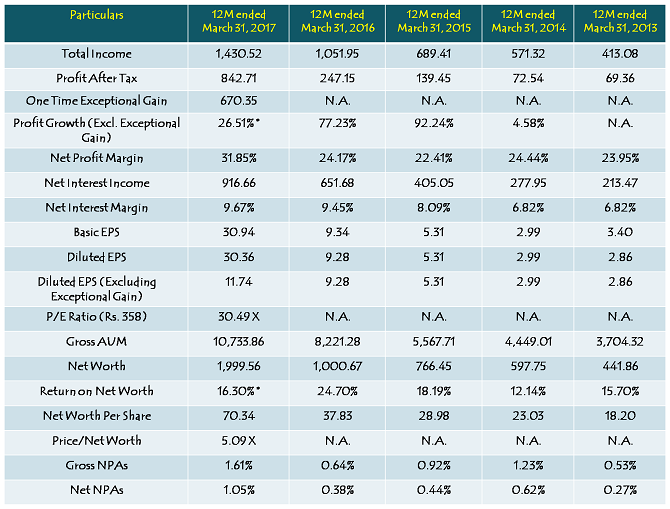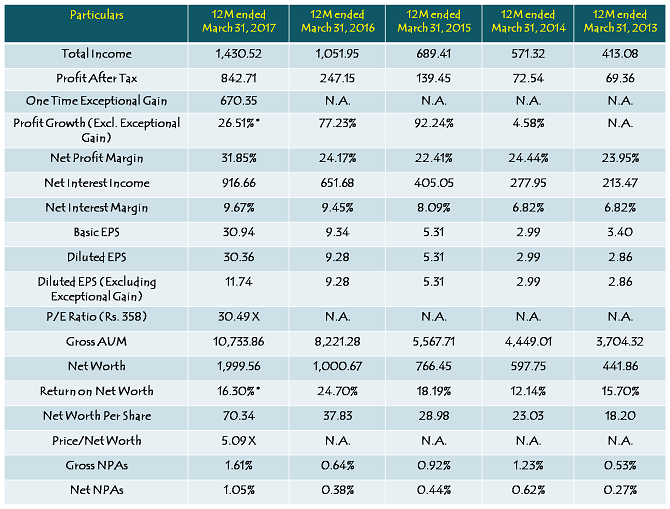 Note: Figures are in Rs. Crore, except per share data & percentage figures
Peer Comparison


Should you invest in this IPO at Rs. 355-358?
At Rs. 358 a share, it seems that AU Small Finance Bank IPO is steeply priced. The company reported an EPS of Rs. 11.74 in FY 2016-17, excluding an exceptional gain of Rs. 18.62 a share on account of its sale of housing finance portfolio. The company has a book value of Rs. 70.34 a share as on March 31, 2017. At Rs. 358, the stock would be valued at 30.49 times its reported EPS for the previous financial year and 5.09 times its book value as on March 31, 2017. Companies with exceptional managements and proven track record warrant such valuations.
Equitas and Ujjivan are the other small finance banks which are currently listed on the stock exchanges. Valuations-wise, both these companies are reasonably priced as compared to AU. While Equitas is currently trading at 2.29 times its FY 2016-17 book value of Rs. 66.03 a share and 32.19 times its reported EPS of Rs. 4.69, Ujjivan trades at 2.03 times its book value and 17.48 times its reported EPS in the same period. Though there are certain significant factors which favour AU over Equitas, Ujjivan and some other banking and non-banking organisations, I still feel the company should have priced its IPO at least 15-20% lower than its current price band.   
Moreover, 53.78% of the company's gross AUM belongs to the state of Rajasthan. Any significant social, political or economic disruption, or a natural calamity or civil disruption, or changes in the policies of the state or local governments of this region or the Government of India, could disrupt its business operations and require it to incur significant expenditure and/or change its business strategies. High concentration of its loan portfolio is a big risk to its prospective investors.
Apart from valuations, I think it is the market sentiment towards these small finance banks, other NBFCs and public sector banks (PSBs) at the time of its listing on or about July 10th which is going to play a major role as if the company lists at a premium to its offer price or at a discount. Some of the recent developments, like farm loan waiver in big states like Uttar Pradesh, Maharashtra, Punjab and Madhya Pradesh, have resulted in a sentimental setback for these small finance banks as well as PSBs.
All in all, I would personally avoid this IPO at these valuations and wait for a healthy correction in its price post-listing before making any significant investment in it. Investors would do well to consider some other reasonably priced small finance bank to put their money as compared to AU Small Finance Bank.