This post is written by Shiv Kukreja, who is a Certified Financial Planner and runs a financial planning firm, Ojas Capital in Delhi/NCR. He can be reached at skukreja@investitude.co.in
Gateway Distriparks' 54.04% owned subsidiary, Snowman Logistics Limited, is coming out with its initial public offer (IPO) from tomorrow i.e. August 26. The company has floated the issue with a price band between Rs. 44-47 per share and is offering 4.20 crore shares during the offer period. The offer will remain open for three days to close on August 28.
At Rs. 47 per share, the company plans to raise Rs. 197.40 crore in the IPO. The face value of its shares is Rs. 10 and thus, the issue commands a premium of Rs. 34-37 to its face value. As the company's average pre-tax profits in 3 of the preceding 5 years was less than Rs. 15 crore, only 10% of the issue size is reserved for the retail individual investors.
About Snowman and its Operations
Gateway Distriparks owns majority of Snowman Logistics outstanding shares as its shareholding stands at 54.04%. Snowman's other large shareholders include Norwest Venture Partners VII-A Mauritius (13.78%), Mitsubishi Corporation (12.57%), International Finance Corporation (12.40%), Mitsubishi Logistics Corporation (2.92%) and Laguna International Pte. Ltd. (1.57%).
Snowman is engaged in offering integrated temperature controlled logistics (TCL) services including warehousing and distribution of frozen and chilled products like dairy products including butter and cheese, ice-cream, poultry and meat, seafood, ready-to-eat/ready-to-cook food products, confectioneries including chocolates and baked products, fruits and vegetables, healthcare and pharmaceutical products and industrial products such as x-ray and photo imaging films.
As of March 31, 2014, Snowman carried out its operations having 23 temperature controlled warehouses across 14 locations in India including Serampore (near Kolkata), Taloja (near Mumbai), Palwal (near Delhi), Mevalurkuppam, (near Chennai) and Bengaluru capable of warehousing 58,543 pallets and 3,000 ambient pallets. Further, it had 370 Reefer vehicles consisting of 307 leased and 63 owned vehicles with a total workforce of 1,490 including 383 permanent employees and 1,107 on a contract labour basis.
Snowman has a diversified customer base with top 20 customers contributing approximately 44.10% of its total revenues during FY 2013-14. Its top 20 customers include Hindustan Unilever Limited (HUL), Al-Karim Exports Private Limited, McCain Foods India Pvt. Ltd., Novozyme South Asia Pvt. Ltd., Ferrero India Pvt. Ltd. and Graviss Foods Private Limited.
Objectives of the Issue – Out of Rs. 197.40 crore it targets to raise in this issue, Snowman plans to use approximately Rs. 128.28 crore to set up 6 temperature controlled warehouses and 2 ambient warehouses in various cities including Taloja (near Mumbai), Cuttack, Pune, Mevalurkuppam (near Chennai), Visakhapatnam, Pune and Surat.
IPO Grading – The issue has been graded by CRISIL as 4 out of 5, indicating that the issue is fundamentally above average relative to other listed equity securities. However, this grading is neither a recommendation to subscribe or not to subscribe to the issue nor an opinion of CRISIL whether the issue price is appropriate in relation to the fundamentals of the company.
Minimum/Maximum Subscription – Market lot of the issue is 300 shares and thus the investors would be required to bid for at least 300 equity shares in the IPO i.e. a minimum investment of Rs. 14,100. Retail investors would be able to apply for a maximum of 4,200 shares at the 'Cut-Off' price.
Listing – The company will get its shares listed for trading on the National Stock Exchange (NSE) and Bombay Stock Exchange (BSE) within 12 working days from the closing date of the issue.
Risks
* The company is yet to obtain certain approvals/licenses for warehouses for which the funds are being raised through the issue.
* Profitability of the company is quite sensitive to power and fuel costs. Any significant increase in these costs or any continuous or chronic interruption in power supply to the warehousing facilities will have a material adverse impact on its operations.
* The company operates 307 of its 370 reefer vehicles and 13 of its 23 temperature controlled warehouses on lease. For these operations to run smoothly, the company is dependent on third party service providers. Any disruption in operations due to any unforeseen reason might result in below par operating performance.
Financials of the Company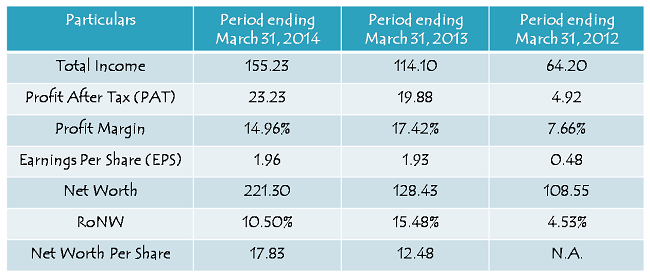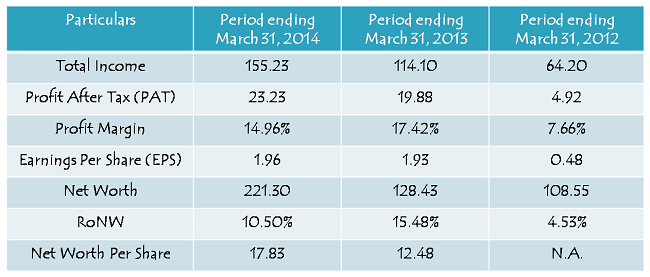 (Figures are in Rs. Crore, except per share data & percentage figures)
Anchor Investment – Three Anchor Investors, IDFC, ICICI Prudential and Faering Capital, have been allotted 94.50 lakh shares of the company today at Rs. 47 i.e. the upper end of the price band. IDFC has been allotted approximately 26.6 lakh shares for IDFC Sterling Equity Fund and 3.19 lakh shares for IDFC Infrastructure Fund, whereas ICICI Prudential has been allotted 21.28 lakh shares for ICICI Prudential Growth Fund – Series 2 and 8.51 lakh shares for ICICI Prudential Value Fund – Series 4.
Valuations
Snowman reported a growth of 16.85% in its profit after tax during the last financial year. Assuming a similar growth this financial year as well, the price band of Rs. 44-47 values the company at around 27 times to 29 times on an expanded equity base post-IPO. Considering a short to medium term operating history, these valuations seem to be on a higher side to me.
But, at the same time, considering the cold storage to be a sunrise industry with infrastructure status tag, there is an immense potential of growth and thus, the issue looks attractive with a little risk involved. Though the issue looks attractive from the listing gains perspective, I think the investors should invest in this issue from a long-term perspective. If things pan out well, I expect the issue to generate good returns for the investors over a period of 2-3 years.
Investors would do well to keep a close eye on the company's operating performance on a regular basis. Any significant deviation from its expected operating performance should be analysed thoroughly.