I first came across the concept of investing in fishing related themes on Roger Nusbaum's blog a few days ago when he wrote about Global X launching a fishing ETF.
Global X has launched the first global fishing ETF in the US a couple of weeks ago.  The FISN Global X Fishing Industry ETF trades on the NYSE Arca and it has around $3 billion in assets already!
Though Indian investors don't have access to this ETF, I thought I'd write about it since it's an interesting theme, and it's good to be aware of such themes before (if at all) they become red hot. As you may imagine this type of fund draws extreme reactions from people. They either think it's downright silly, or they think it makes perfect sense, so far I haven't seen a lot of people in the middle.
It's easy to see why someone may think this is a silly theme, so let me dwell on why people think this makes sense. The idea is that as a large number of people around the globe move to higher incomes and demand protein rich food – fishing related companies will be one of the beneficiaries of the trend.
To take advantage of that – FISN tracks the Solactive Global Fishing Index and the aim of the index is to track the performance of large global companies engaged in the fishing industry.
The index has 20 constituents out of which 18 companies are based outside the US. The index contains a mix of emerging and developed countries, and Norway and Japan are the two largest country components of the index.
Here is the weight of various countries in FISN.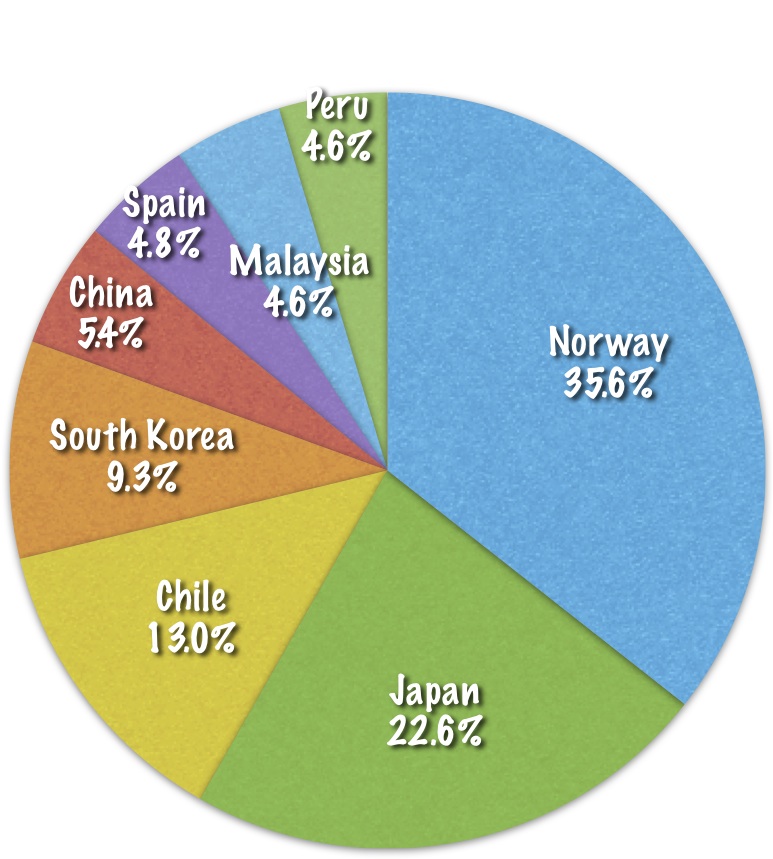 As you can see, Norway and Japan form more than half of the index constituents, and the USD – YEN or USD – Norwegian Krone currency rate movement will seriously impact how the fund performs.
Currency rate movements can have significant impact on ETFs that invest in foreign stocks as we saw in the case of INDY (iShares S&P India Nifty 50 Index Fund) which outperformed its underlying index by quite a bit because favorable exchange rate movement.
Next, let's take at the top 5 companies that companies that form part of this index.
S.No.
Company
Country
Percentage
Brief Description from the Company Website
1.
Cermaq ASA
Norway
10.75%
Cermaq's vision is to be one of the global leaders in the aquaculture industry, with main focus on sustainable farming of, and production of feed to salmon and trout.
2
Marine Harvest
Norway
10.65%
Marine Harvest is the world's leading seafood company and world's largest producer of farmed salmon.
3
Toiyo Suishan Kaisha Ltd.
Japan
9.78%
Toyo Suisan Kaisha, Ltd. engages in the purchase, distribution, and exporting of food products in Japan and internationally. The company operates in four segments: Seafood, Processed Foods, Cold-Storage, and Other.
4
Cia Pesquera Camanchaca SA
Chile
8..45%
Camanchaca Chile began operations in 1965, with activity focused on conventional fishing and processing of shrimps and prawns.

In 1980, a change of direction in the company resulted in a diversification strategy drove a steady and constant growth

5
Dongwon Industries Co Ltd.
South Korea
4.92%
The sun never sets on the ocean of Dongwon Industries. Dongwon Industries cultivates the oceans ranging from the Indian Ocean all the way to the Antarctic Ocean. The tuna that they catch in the world's waters is kept under the temperature of -60degrees Celsius and delivered fresh to the customers'dinner table. We export our marine products to Japan, United States of America, Russia and so forth, with the best quality, which proves the world recognition of our high-quality products.
The fund has an expense ratio of 0.69% so not very highly priced either. Â In summary, the fund has a lot of international stocks that are large companies in the fishing sector.
I have absolutely no clue how this will do in the future, but I think this is a very interesting theme, and one that is at least sure to capture the imaginations of people if not provide them good returns.
It's also the kind of thing that people enjoy telling others that they invested in, so that may be another reason why the fund has grown in size so rapidly.
What are your thoughts? Do you think it silly or does it make sense to you?