The Goldman Sachs Nifty Junior BeES is an index ETF that aims to track the CNX Nifty Junior Index.
The CNX Nifty Junior Index is an index that comprises of the 50 most liquid stocks after the Nifty, and as a result is a mid cap index.
The GS Nifty Junior BeES is an index ETF and you normally associate low costs with index ETFs because there is no active management involved, however at a 1% annualized expense ratio – this ETF is not low cost and I'm not sure why they charge 1% because they charge just half of that for their Nifty ETF and this product is no different from that.
With just over Rs. 85 crores in assets, this fund is not very big either and given that it's been around since 2003, it shows that it hasn't been able to attract the attention of investors quite like the other funds.
Deepika, who originally commented about this ETF wrote that this gives a feeler of safe and attractive returns, and if you look at the chart below which shows the returns of the Nifty BeES along with Junior BeES you will see why she says that.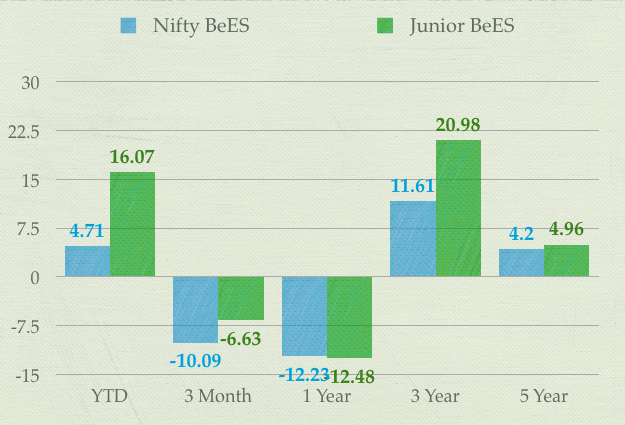 The Junior index has run up quite a bit this year and that's probably the reason behind the interest in the index. A few months ago I did a post on the leading Indian indices and their performance details, and that post has 10 year returns data as well which shows that the Junior index did better than the Nifty in the 10 year period but the Sensex did better than both in the 10 year period so you can't really conclusively say that the mid caps are better than large caps.
As far as returns are concerned you see that the Nifty and Nifty Junior are quite close and it's impossible to say which will do better in the next 5 or 10 year period.
As far as safety is concerned, I think the calendar year returns chart for both the funds tells a great story. Here is the chart with data from Moneycontrol.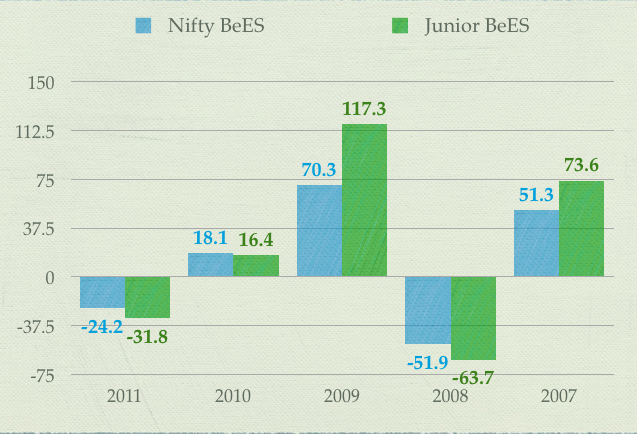 As you can see, Junior BeES fell a lot more than Nifty BeES during bad years, and rose a lot more than it during the good years.
This is what you'd expect of an ETF comprised of relatively smaller cap stocks and it paints an instructive picture.
While the returns in the past may be similar or even better, they came with a higher volatility and you must have been willing and able to stomach that.
Personally, I'd favor the Nifty ETF instead of the Nifty Junior ETF because of the lower cost, lower volatility and higher assets under management.
This post is from the Suggest a Topic page.