Chethan tweeted out to me asking about ETFs versus mutual funds sometime last week, and I said that I preferred ETFs but if he is just starting out building a portfolio then he should take a look at balanced mutual funds as well.
Balanced mutual funds have a little more than 65% in equity and the rest in debt and cash. The benefit of these type of funds is that they don't fall as much during market crashes which unfortunately occur quite often in India, and then they benefit reasonably well from rallies, and have performed rather well in India in the past few years. In watching these funds over the years I have felt that they offer the best of both worlds and there are some really good ones out there too so if are starting out then I'd recommend you own some in your portfolio.
Here is the conversation for a little context, and I'll lay down my thoughts and some good balanced funds after that.
@gischethans Yes, I agree. In India, active MFs have done better than index funds so you should have some of those in your portfolio as well

— Manshu (@Manshu) October 14, 2013
You will notice that my emphasis was on balanced funds and not so much on his original question because I know that he is starting out and I feel that balanced funds are a good way to start out.
They don't have the same kind of volatility that pure equity funds have and they do tend to rise as much as their pure equity counterparts when the going is good, so they are a good thing to own.
If you are just starting out and see the value of your equity mutual fund down by 30% in a year, that might just turn you away from equity completely. This is not to say that balanced funds won't fall as much, in fact they do fall quite a lot when the markets are down because there is just no way to escape that but since they have a debt component, there is some cushion.
You may notice how I'm implying that there will be a big fall, and given the nature of markets, I very much believe this to be true. This has been the nature of the Indian markets for very long, and nothing has changed recently to make this go away.
You have to be prepared to deal with declines and balanced funds help with that to some extent without compromising on gains too much.
Here is a graphic illustration of what I'm saying.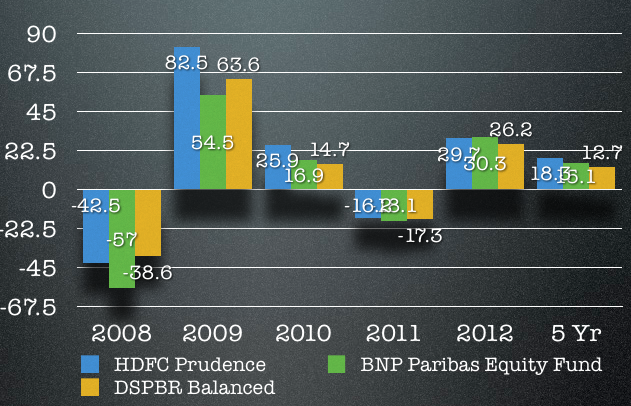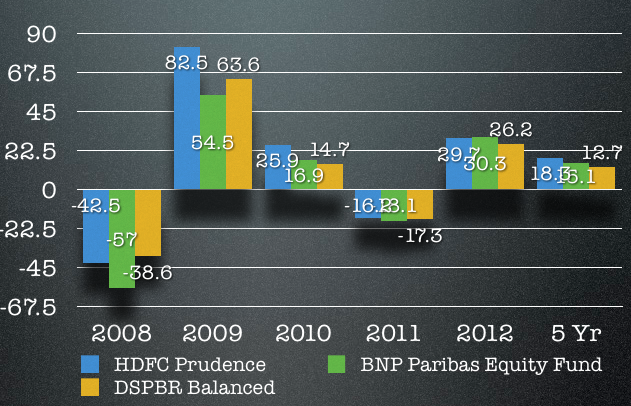 I chose BNP Paribas as that came up as CRISIL's number 1 ranked large cap mutual fund on Moneycontrol, and then I chose the other two balanced funds on random from my earlier post on best balanced mutual funds.
Looking at these graphs you couldn't tell which ones were equity funds and which ones were balanced funds, and I have included the 5 year annualized returns from these funds at the end to compare the annualized returns and that's also quite comparable.
I would say there is a definitely a case to own balanced funds before you go into buying any other funds.
As to which funds to buy, the list I did earlier (best balanced mutual funds) has some good names that you can pick from. Hemant also did a great post about balanced funds last year, and he has some names in there that you can look at. I'd highly recommend reading that post as well – Balanced Funds – Best of Both Worlds.