This post is written by Shiv Kukreja, who is a Certified Financial Planner and runs a financial planning firm, Ojas Capital in Delhi/NCR. He can be reached at skukreja@investitude.co.in
Markets are often driven by sentiment and there is a slump in the real estate market these days due to negative sentiment. There is a drastic fall in the number of sale-purchase transactions which has resulted in an overdue price correction and squeezed the liquidity from this market. The same liquidity seems to be flowing now to equity and debt markets. Such high levels of liquidity flows have resulted in stock markets and bond prices to touch their 52-week highs.
Encouraged by super demand for two back to back NCD issues of DHFL, SREI Infrastructure Finance Limited is coming out with its issue of non-convertible debentures (NCDs) from this Wednesday, September 7. The issue is scheduled to remain open for three weeks to get closed on September 28.
Size & Objective of the Issue – Base size of this issue is Rs. 250 crore, with the green-shoe option to retain an additional Rs. 750 crore, making it a Rs. 1,000 crore issue. The company plans to use at least 75% of the issue proceeds for its lending activities and to repay its existing loans and up to 25% of the proceeds for general corporate purposes.
Coupon Rate & Tenor of the Issue – The issue will carry coupon rate of 9.35% p.a. payable monthly and 9.75% p.a. payable annually or cumulative for a period of 3 years (36 months) and 9.60% p.a. payable monthly and 10% p.a. payable annually or cumulative for a period of 5 years (60 months). There is one more option of 400 days which offers an effective annual yield of 9.08%.

Minimum Investment – Investors need to apply for a minimum of ten bonds in this issue with face value Rs. 1,000 each i.e. a minimum investment of Rs. 10,000.
Categories of Investors & Allocation Ratio – The investors have been classified in the following three categories and each category will have the below mentioned percentage fixed in the allotment:
Category I – Institutional Investors – 20% of the issue i.e. Rs. 200 crore
Category II – Non-Institutional Investors – 20% of the issue i.e. Rs. 200 crore
Category III – Individual & HUF Investors – 60% of the issue i.e. Rs. 600 crore
Allotment will be made on a first-come first-served basis, as well as on a date priority basis i.e. on the date of oversubscription, the allotment will be made on a proportionate basis to all the applicants of that day on which it gets oversubscribed.
NRIs Not Allowed – Non-Resident Indians (NRIs), foreign nationals and qualified foreign investors (QFIs) among others are not eligible to invest in this issue.
Credit Rating & Nature of NCDs – Brickwork Ratings has rated this issue as 'AA+'. Debt instruments with such a rating are considered to have high degree of safety regarding timely payment of interest and principal. Moreover, these NCDs are 'Secured' in nature i.e. in case of any default on its payment of interest or principal, the bondholders will have the right on certain secured assets of SREI Infra.
Listing, Premature Withdrawal & Put/Call Option – These NCDs will be listed on both the stock exchanges i.e. Bombay Stock Exchange (BSE) as well as National Stock Exchange (NSE). The listing will take place within 12 working days after the issue gets closed. Though there is no option of a premature redemption, the investors can sell these bonds on the stock exchanges if NCDs are held in demat form.
Demat Not Mandatory – Demat account is not mandatory to invest in these NCDs as the investors have the option to apply for these NCDs in physical or certificate form as well.
TDS – Interest income earned is taxable with these NCDs and the investors are required to pay tax on the interest income as per their respective tax slabs. TDS @ 10% will be deducted if these NCDs are held in physical/certificate form and annual interest income is more than Rs. 5,000. NCDs held in demat mode will not attract any TDS.
Should you invest in these NCDs?
SREI Infra had its last NCD issue in July 2015. Below pasted is the table having issue details, BSE scrip codes and last traded prices of those NCDs.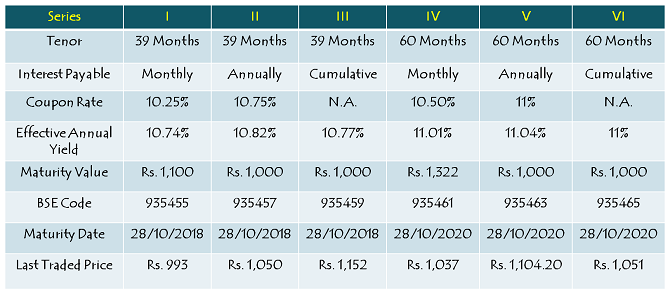 SREI Infra NCDs always carry low volumes and that is why it is very difficult to calculate its relevant yield to maturity (YTM) for the interested investors. But, If I were to invest in SREI Infra's NCDs, I would have bought them from the secondary markets as I think it is possible to invest in these NCDs at a YTM between 10.50% and 11.50%. Its current issue offers coupon rates between 9.35% and 10% which are not attractive for me to invest. However, conservative investors, who are not liable to pay any tax or fall in the 10% tax bracket or who trust SREI Infra's management, can consider investing in these NCDs.
Application Form – SREI Infra NCDs
Note: As per SEBI guidelines, 'Bidding' is mandatory before banking the application form, else the application is liable to get rejected. For bidding of your application, any further info or to invest in SREI Infra NCDs, you can reach us at +91-9811797407