This post is written by Shiv Kukreja, who is a Certified Financial Planner and runs a financial planning firm, Ojas Capital in Delhi/NCR. He can be reached at skukreja@investitude.co.in
Edelweiss Financial Services' subsidiary, ECL Finance Limited, came out with its first NCD issue in January this year and the issue got oversubscribed on the 2nd day itself. The company then decided to close the issue on the 3rd day due to such oversubscription. Boosted by such a good response, the company is all set to launch its second public issue of unsecured, redeemable, non-convertible debentures (NCDs) from June 17th i.e. the coming Tuesday.
Size & Objective of the Issue – The company plans to raise Rs. 400 crore from this issue, including the green shoe option of Rs. 200 crore. The company plans to use the proceeds for various financing activities, including lending and investments, to repay its existing loans, for capital expenditures and other working capital requirements.
Credit Rating of the Issue – Two rating agencies, CARE and Brickwork Ratings, have rated this issue as 'AA' with a 'Stable' outlook. As mentioned above, these NCDs will be unsecured, unlike those offered during the first issue.
Coupon Rate & Tenor of the Issue – Last time, there were two tenor options – 36 months and 60 months. This time the company has decided to issue its NCDs for a duration of 70 months and that is the only tenor option. The company has decided to offer 12% per annum rate of interest, payable monthly, annually or on a cumulative basis at the end of 70 months.

ECL Finance vs. Muthoot NCDs –Muthoot NCDs issue is also open for subscription right now and it is scheduled to close on June 26. As you can check from the table above, Muthoot is offering relatively lower rate of interest. For a period of 60 months, Muthoot is offering 11% p.a. payable monthly, whereas ECL is going to pay 12% p.a. for 70 months payable monthly or annually. Muthoot is offering 0.50% extra if you opt for its annual interest payment option.
Also, ECL is offering to more than double your money in 70 months' time, whereas Muthoot will return exactly the double of your investment in 75 months' time.
Apart from being the issues of two different companies with different business models, ECL Finance NCDs are unsecured, whereas Muthoot Finance NCDs are secured, except the last option of 75 months.
Minimum Investment – If you want to apply for these NCDs, you need to invest a minimum of Rs. 10,000 i.e. at least 10 NCDs worth Rs. 1,000 each and in multiples of 1 NCD thereafter.
No Additional Benefit to Edelweiss Shareholders – In the last issue, Edelweiss shareholders were entitled to an additional coupon of 0.25% p.a. over and above the base coupon rates. No such special benefit has been granted to the shareholders this time around.
Categories of Investors & Allocation Ratio – The investors have been classified in the following three categories and each category will have the below mentioned percentage fixed in the allotment:
Category I – Institutional Investors – 30% of the issue is reserved
Category II – Non-Institutional Investors – 20% of the issue is reserved
Category III – Individual & HUF Investors – 50% of the issue is reserved
NCDs will be allotted on a first come first served basis.
NRIs Not Allowed – Non-Resident Indians (NRIs), foreign nationals and qualified foreign investors (QFIs) among others are not eligible to invest in this issue.
Demat & TDS – Demat account is not mandatory to invest in these bonds as the investors have the option to apply these NCDs in physical form as well. Also, though the interest income would be taxable with these bonds, NCDs taken in demat form will not attract any TDS.
Listing, Premature Withdrawal & Put/Call Option – These NCDs will get listed on both the national exchanges i.e. Bombay Stock Exchange (BSE) as well as National Stock Exchange (NSE). The investors can always sell these bonds on the exchanges anytime they want, but there is no put option with the investors to redeem these bonds before the maturity period gets over. The listing will take place within 12 working days after the issue gets closed.
Financials of ECL Finance
I covered the profile of ECL Finance while posting its first issue in January, so I don't think there is a need to do it again. Rather I would like to cover its updated share of financials and product line here.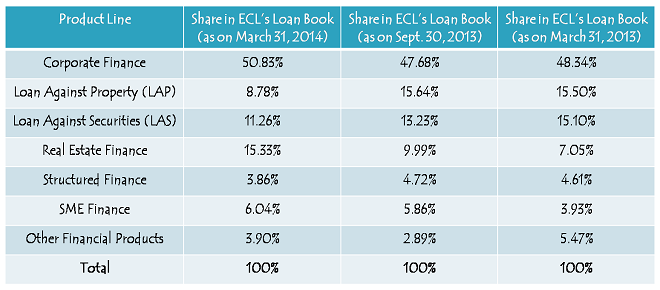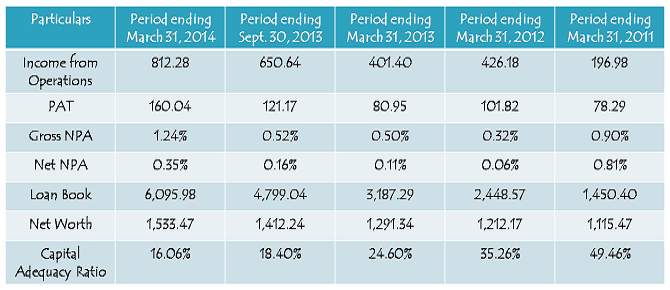 (Note: Figures are in Rs. Crore)
As you can check from the table above, the revenues of the company grew by 25% last year from Rs. 650.64 crore to Rs. 812.28 crore. Profit after tax (PAT) also rose 32% from Rs. 121.17 crore to Rs. 160.04 crore. This clearly shows that the company is on a growth path despite challenges in the economic environment.
As the loan book witnessed a satisfactory growth of 27%, gross and net NPAs of the company also jumped to 1.24% (0.52% earlier) and 0.35% (0.16% earlier) respectively. Capital Adequacy Ratio (CAR) also declined to 16.06% from 18.40% in the previous financial year, but it is still above the RBI's stipulated minimum requirement of 15%.
Performance of its Listed NCDs of Last Issue

With a falling interest rate scenario and analysing the price performance of its NCDs of last issue, it seems to me that this issue also is fairly valued at 12% p.a. rate of interest. The only issue I have is that these NCDs are unsecured in nature. But, again I think the risk is fairly compensated with 12% p.a. rate of interest.
Application Form of ECL Finance NCDs
Note: As per SEBI guidelines, 'Bidding' is mandatory before banking the application form, else the application is liable to get rejected. For bidding of your application, any further info or to invest in ECL Finance NCDs, an investor can reach us at +919811797407