This post is written by Shiv Kukreja, who is a Certified Financial Planner and runs a financial planning firm, Ojas Capital in Delhi/NCR. He can be reached at skukreja@investitude.co.in
I have already posted three articles for Sukanya Samriddhi Yojana and the queries regarding this scheme are not showing any signs of tiredness. People have been asking all kind of queries regarding various features of this scheme and sharing all kind of experiences here on these posts. The biggest problem they are facing is to find out which bank branches are opening this account and accepting deposits from the general public. Banks are showing their inability to open these accounts as they do not have any clue about the account opening process.
I also got a few comments in which people wanted me to post a duly filled application form so that they can also easily fill the application form for themselves. So, here you have the sample of a duly filled application form: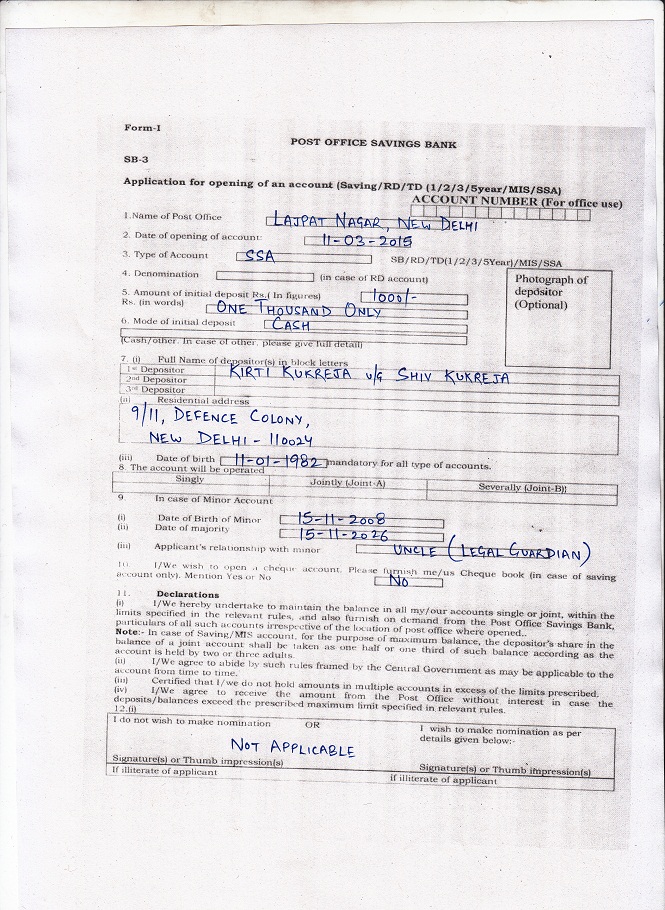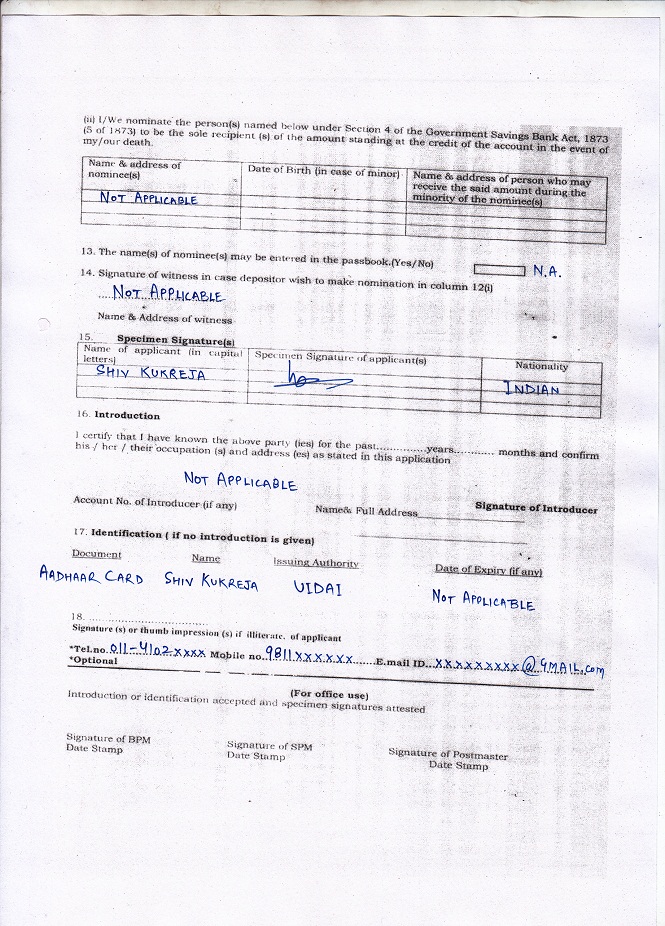 The application form is fairly simple and you can fill it in less than two minutes. Also, I have filled this application form to the best of my knowledge. So, if any of you find any discrepancy in it, please point it out to me and I'll rectify it as soon as possible.
Please don't forget to carry the necessary documents to open this account, which are as under:
* Birth Certificate of the Girl Child
* Identity Proof or Aadhaar Card of the Parent/Legal Guardian
* Residence Proof or Aadhaar Card of the Parent/Legal Guardian
* 2 Photographs of the Depositor/Parent/Legal Guardian
Much has already been mentioned about this scheme in my earlier posts, so I'll wrap it up here. If you have any query regarding this scheme or any of its features, please let me know.
Application Form for Sukanya Samriddhi Yojana
List of authorised commercial banks where you can get this account opened
Calculating Maturity Value of SSA